Take a look at this cake!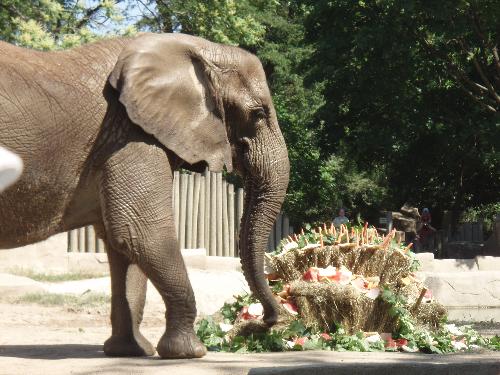 United States
February 15, 2008 8:29am CST
It was an elephants 40th birthday at the zoo. There was a huge birthday cake elephant style, which had lots of hay and watermelon, which was her favorite because she ate it first, lettuce, cantaloupe and carrots for candles. They also had a huge birthday card for everyone to sign and we all sang happy birthday as she walked out and went right for her cake. Have you ever seen a birthday cake for an animal? What did it look like and what kind of animal was it?
8 responses



• United States
15 Feb 08
My first cat, Sab, LOVED shortbread. So, I made a batch for her birthday one year. Granted, the roomie & I ate most of it, but she got to eat her fill. She was a "bread eater" and quite the nag when I was making shortbread... hummmm short breaddddd sounds good!

• United States
15 Feb 08
We did a birthday celebration for our cat Buddy. It was a mini-cake with candles and all that and said Happy Birthday Buddy on it. I would post a picture but alas I believe those pictures are lost. I KNEW I would need them one day. Thanks for the post. Zelo

• United States
15 Feb 08
I haven't see birthday cake for animals ever. I think that this kind of cake would be very healthy for people too...much better than sugar cake... Elephants are very smart and I am sure that she felt very special that day....without feeling old....only people know how to count age...

• United States
16 Feb 08
I like fruits more than cake for sure....:)))



• United States
15 Feb 08
Hey Doll, Nice cake.. I once knew a gal that made cats for all kind of animals but I've lost track of her.. The one that was the strangest was a cake for an iguana..it had meal worm inside this pressed fruit thing and they were squirming and wiggling all over.. xoxoxoxoxo

• United States
22 Mar 08
LOL Not only have I seen one, I've made one. Every time my dog, Petey's birthday came around. He was born on February 29th so I usually made him a cake either on the 28th or the 1st. It was made with soft dog food and had dog biscuits around it with the number of years in circular hotdog bits on top. He loved it. !!HAPPY EASTER!! **AT PEACE WITHIN** ~~STAND STRONG IN YOUR BELIEFS~~