Did you like the movie transformers?

India
5 responses


• United States
15 Feb 08
I liked Transformers. My son got it on dvd for Christmas so I watched it with him. My 4 year old daughter really likes it too. It is cool to her to see a car make itself into a robot.

• United States
15 Feb 08
I really liked the movie. Partially because I am sort of a big Shia fan. The action was great and I did enjoy the storyline. I wish they hadn't killed one of the good transformers. But I think the sequel will be pretty darn interesting. I actually didn't watch the cartoon much growing up. I just remember the theme song which everyone knew. "Transformers robots in disguise." Even though I wasn't into the cartoon. I was really surprised I liked the movie so much.So yes! I did like the movie. (lol)

•
15 Feb 08
Actually suprised me as it was a good adaptation of the cartoon. Only problem I had was the obvious setting up for a sequel

• United States
15 Feb 08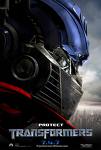 I watched Transformers with my 32 year old son and his fiance just a few weeks ago. We both enjoyed it and it brought back a lot of memories from when he was young because he was so into them and had a huge collection of Transformers.