It's No Longer a Mystery To Me....

United States
February 16, 2008 9:08am CST
...why parents of children get so angry at coaches that they punch them in the eye! I just got back from my sons second soccer game of the winter season and all I have to say is that their coach is a blithering idiot! Quick back story - My sons team has 2 coaches. My sweetie and the sweetie of my best friend. The last game they played was coached by my sweetie and my best friend and our kids team won 6-0. This week our kids team won 2-1 but that in and of itself was a miracle. There are 6 boys between the ages of 5-7 and two girls one 4 and one 5. The coach this week whom I have known to be an idiot for the past 15 years just furthered my belief that my opinion of him is still valid. I told him that the best players to have on offense were 3 of our 4 boys and this other kid who showed up out of nowhere at the last game. They actually run after the ball and aren't afraid of kicking it. (or anyone else that gets in their way) My youngest son does best on defense as well as this other boy and both the girls. They can all be switched between defense and goalie because our offense is so amazing. I take his daughter to the bathroom to come back with her to find that he is going to put his daughter on offense. Really? Offense? She is all of 4 foot nothing and weighs 20 pounds. (slight exaggeration!) And he is going to put her up against two big boys on her team and the 3 giants on offense on the other team. So by now I am thinking he either has a really good accidental death policy on her or he is just a flipping idiot. Why did I even give myself the option? He IS a flipping idiot! In his credit he did take out one of my kids who was whining that he didn't get to play goalie so good job on teaching my son a lesson but he could have switched around another position to accommodate the loss of a good offensive player. So his daughter is standing there counting ceiling tiles with her hands in her pockets as everyone is just playing the game around her. Half way through the second period she decided she was just going to walk off the court and sit on the bleachers then throw a fit because she thought her brother drank her iced tea. And daddy thought that was okay. So much for being a team player. I sent my son back in and the game continued. And by the grace of (insert deity of choice here)our team won. I knew before this season ever started that I could not be a coach because I played the game as a child and I was taught the right way to play it. I can't get that training out of my head so I knew it would be best not to put myself in a position to have to yell at other peoples small children. But now I also realize that I cannot coach because there would be blood shed on the court if the other coach acts like a blithering idiot. Have any of you ever gotten so mad at a coach during one of your kids sporting events that you wanted to smack them upside the head or give them a dollar and tell them to go out and buy themselves a clue, or is it just me?
5 responses

• Canada
16 Feb 08
With all do respect isn't it the coaches decision who played what position and when. If they listened to every crazy soccer mom/dad/parent who thought they knew best for the team and for other children they would never get their job done. You may know your sons strangths and weaknesses but i can guarentee you do not know what is best for someone eles's child. You probably shouldn't critisize a coach of small children unless you want to take his place. And he probably thinks you are as much, if not more, of an idiot that he is for trying to do his job and thinking you know everything. Sports for children are supposed to be fun and not technical, winning does not matter unless you are perhaps living vicariously through your children for nbot becomming the soccer star you are aparently so well trained for. Also hockey has periods, not soccer

• United States
16 Feb 08
Maybe you missed the part where I said that I have known this coach for 15 years. He is one of my friends. Our children make up 75% of the team. We both know 5 of the 7 players very well. So maybe you think it is a good idea for him to put his 4 yr old daughter up against 6 and 7 yr old boys that outweigh her by 25 lbs and are over a head and a half taller than her. So much for safety first huh? But yeah you're right since I would obviously do a much better job then this idiot I should coach the team next year. And yeah ok our soccer team has quarters not periods. But who gets technical when we are talking about a kids game? lol

• Canada
16 Feb 08
you were talking about all the training you experienced when you were younger. I would have thought that with all this training you would knew that soccer has quarters, my mistake, guess you missed that part of traning eh? And seriously, who makes threads about how idiotic their friends are and posts them on the internet? You must be such a wonderful friend!

• United States
17 Feb 08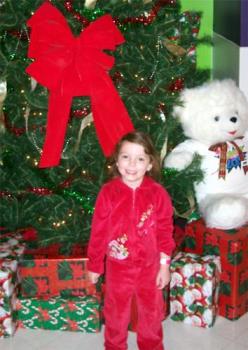 Hi Vulgarlittleprincess, I see that your really upset about how she treats the coach/friend of 15yrs, well if you really must know how her friends feel about her writing this well let me say I told her to write it, becuase I wrote about last weaks game, and so that I'm sure you get the point we are the two that make up most of the team. I can't help that my boyfriend is an idiot, but our 5yr old up front to get trampled by kids twice her sizeis idiocity. Now that being said my hunny was coaching this weekend and you know what he didn't do a great job .. He does what he wants not what is right. this is a non profit organization that doesn't teach all the technical stuff of soccer. So what if she said periods instead of quarters she hasn't played in at least 11yrs. Truly I don't even pay attention to that I pay attention to the mechanics of the game and to be a VOLUNTEER coach you don't have to have any training in soccer. Me and her fiance take one weekend and you know what my daughter Hailey never and I mean never takes offense one she won't chase after the ball , two she will get trampled, and three it's not a good idea. I'm a coach for the team want to agrue my point on how I handle the same team with my friends fiance? I know that my other half will cater to his daughter do I think it's right NO! Do I think he's an idiot for not putting the three best offense on our team up front Yep. So I don't mind she calls him and Idiot on the net neither does he they have called eachother and done a lot worse to eachother. Yes she is a great friend .. I say that because I know that .. By her actions and by what she says. What part of Cynical and Outspoken have you missed? Me and her keep eachother in check we balance eachother out. Funny ain't it. But I do share the same view she has .. The coach/ my boyfriend should have never put our daughter in the front position becuase of how small she is .. She does better defense always has and when she is a goalie her brother and my best friend Cyn's son Aiden get put together on defense so she doesn't even have to worry about a soccer ball getting to her ..I know that you think that she is a crazy soccer mom/parent but she is not, she goes by what me and her fiance told her about the games. Also the coach/ Idoit/ my boyfriend just only started, me and my best friends fiance have been at a majority of the games and training sessions but my hunny always feels he's right no matter what. Sorry just facts from the Coach that's not the idiot here. Have a nice day.Picture below of small daughter..


• Philippines
16 Feb 08
We parents always go on defense for our kids . We don't want them to feel left out or bossed around by anybody.I am sorry you feel that way about your kids coach but maybe he puts new kids in to give them a chance to prove their worth on the team. If you think the coach is not doing his job right why not talk to the dean and tell him what you feel so he himself can talk to the coach and tell him what he's doing is wrong.

• Canada
16 Feb 08
if the children on the team are between the ages of five and seven years old I do not understand why "good" players have to be put in. How are these children supposed to improve unless they are given the oppertunity at a young age to develop and tuen their skills. they should be given a fair chance to play and not have soccer parents saying how stupid they act. They are Five years old! They are only kids! they should be having fun not worrying about winning games so mommy and daddy can brag about their little child stars

• United States
17 Feb 08
Vulgarlittleprincess, As a co coach of the same team please read above. We have subs everyone plays we put them in the positions they are best at. Do we win when this happens, yes because they are that good .. Hence we had a 6-0 game everyone playes and did great. this is more about postioning a small tiny child where she could get injured worse than on defense. We have promised our combine kids as long as they play the game and do their best no matter if they "win or lose" they are going to Chuckee Cheese.. Now P3Halliwel2005, Let me say she doesn't have to go to the dean there is no dean this is no profit all coaches are Volunteer parents. That being said sometime we carpool. So she can grip to the source til her little heart is content. Then she tell me about it and I being co coach can grip to him. There are 3 coaches to this team two go one weekend one goes the other. Thank you for your thoughts have a nice one.

• United States
17 Feb 08
There isn't anyone but the coach for me to express my opinion to. The coaches are all volunteer parents and in this particular case, he happens to be the father of 3 of the players on this team and it was him giving his daughter special treatment and by doing so put her in a position where she could be injured that prompted me to call him an idiot. Any parent would feel the same if he was doing that to their child. These games are supposed to be fun and give the kids something to do on weekends but the last thing any parent wants to see is their kid being rushed to a dentist because they were knocked down and kicked in the teeth.

• United States
16 Feb 08
Wow really you had to give your self a choice. LOL!! I knew you were going to write this after talking to you this morning you did forget to put in that there was almost blood shed on the field anyway. LOL!!! Wasn't it something about the coaches one kid kick the ball so hard and good that he ended up planting it in another kids face, while the other son ran right over someone and didn't even notice the dent in the floor was another child. LOL!!! To top it all off the child that smack the other child in the face with a soccer ball almost knocks over your son but reaches out to steady him and then pats him on the head.. Flippin hilarious. LOL!! You really should get a pic of the girl so we can get a good visual of how tiny she it. LOL!!!

• United States
17 Feb 08
I would never post a picture of your daughter without your permission but I see you have already done so for me. And just for those of you who ride the short bus, Bella and I are really good friends off of myLot so I would rant about being called a "crazy soccer mom" in posts under this one but I see she has beaten me to it. LOL Yeah it was hilarious when your sons bull dozed through anyone in their path but when it was my son they ran into they made sure to steady him so he didn't fall down. LOL The true meaning of friendship to a 5 year old.

• United States
17 Feb 08
yeah you can post a pic of our little group of kids anytime ... LOL!!! Yep my bulldozers make sure that their friends are ok first and for most. LOL!! They love spending time together. LOL!!

• United States
16 May 09
I'm laughing here... I know this discussion is OLD but I just added sports to my interest, that's how I came across this. I got through the first two replies (and the exchange) and I had to stop reading. lol It's sort of yoru typical exchange regarding youth sports isn't it? I've seen both sides of the coach/parent conficts. I've come to the conclusion that both sports parents AND coaches are NUTS! lol Of course I inlude myself in that description.

• United States
16 May 09
I learned my lesson. My kids didn't play on the same league this year so I didn't have to deal with my friend being an idiot in the gym. Now I just have to deal with him being an idiot EVERYWHERE else :) Thanks for the comment. I needed a good laugh myself.


• United States
17 Feb 08
you should have heard here before. LOL!!! when you weren't around. LOL!!