the world's most popular football amongst active player in 2007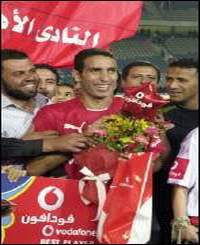 Egypt
February 17, 2008 3:36am CST
mohamed abutreika of egypt is the most popular player the year 2007 saw second iffhs user vote for the world's most popular football player with a total of 2,727,458 csting their vote.Iffhs had provided a list of 55 candidates from all six continents.the vote resulted in agreat arab triumph. the easy winner was 29year-old mohamed abutreika of egypt play maker,and goal getter of al-ahly(cairo). he is the great idolegyption football,one of the finest player in all of africa
3 responses

• Egypt
21 Feb 08
sure he deasrve it he is the best player ever not only afria whole world !

• Egypt
18 Feb 08
Holla amma Sherif aka G.s . EGYPTIAN . 21y All da ppl luv Abutreika he is a Good person before he be a Gr8 Player .. he was da soljah n Ghana 2008. We all luv'em so baad Thx abt dat Gr8 Discussion .. peace

• Uganda
17 Feb 08
I think he deserved the votes,he was just superb at the African Cup of Nations meet in Ghana-I could say, he was the undisputed star of Ghana 2008!