Feeling my baby move, am I getting impatient?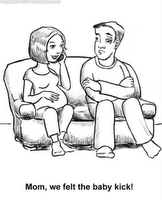 India
February 17, 2008 12:54pm CST
Ok this is my first baby, and I'm 16.4 weeks pregnant, I know this would be a bit early - My Doctor said at my 16 week check you should expect to start feeling movement in 2-3 weeks from now, but I am getting so impatient!!I have a bump already so when might I feel baby?
8 responses

• United States
17 Feb 08
I think I was around 18 weeks pregnant when I started feeling the baby with my first pregnancy, but it was probably closer to 20 weeks before I realized that it was the baby moving. At first it was such an odd sensation. Not at all what I was expecting, so it didn't register with me what it was. Of course as they get bigger and have less room, there is no mistaking it later on. :-). Congratulations on the baby.

• India
18 Feb 08
Thanks for that! I am actually way too much excited. But a couple of weeks back I was under shock when I had to go through morning sickness. That phase is over now and as I'm regaining my energy slowly, I'm getting really impatient to feel my baby's movement anytime by now. But as you say, I can wait till my 20th week :)

• Australia
22 Feb 08
I'm currently 19 weeks along with my 2nd pregnancy & i don't think i've felt anything moving in there yet either - i guess it depends on bubs position & size as well so you might just have to wait a little longer :) I had scans last week & everything is fine in there though! I know that sucks but i was exactly the same with my first & then when she started kicking, i just wanted her to stop coz they tend to do it when you're relaxing or wanting to sleep :) they'll sleep when you're active but wake up when the movements stop - which can be very frustrating. I hope you get your movements soon but when it starts, you'll be wishing it would stop so you can get some sleep - LOL!

• Philippines
19 Feb 08
mine, as i have recall, i think i'm in my 20 weeks pregnant when my baby really moves..it's funny feelings because it's my first time, and i'm happy that my baby really moves..it's normal friend, and you can really really feel the move when it grows, like you can feel the baby is on the left side, it's funny..dont be impatient, that's the sign that your baby is really alive..

• India
24 Mar 08

yes you were right cherrie! I actually felt my baby when I entered my 18.5 weeks!!! It was funny. Honestly i thought there is a lizard trapped inside me and fluttering to find its way out! I'm around 22 weeks pregnant now and can often feel its routine movements. I make it listen to soft music and it dances! seems like it will grow up to be a great dancer like i am;) I'm very happy:))

• United States
19 Feb 08
I felt it very early in my pregnancy but mine was also very very active. More then usual.

• Philippines
19 Feb 08
I know what you mean... i was eagerly waiting to feel my baby move the minute i found out that i was pregnant... but as i recall... i felt her for the first time around the 16th week... but then... based on my research... the baby is constantly moving before that but they are still too small for us to be felt... Don't worry... you will feel your baby move in no time... just be patient... although what i did before if i wanted to feel her move... i would listen to classical music... whenever i do... i felt like she is dancing to the beat inside of me...

• India
20 Feb 08
Lucky u! I think I gotta gather some more patience. But apart from getting excited and impatient, I'm now worried too. I wish there was some window kind of thing from where I could have peeped inside and had a look at my baby every now n then and see if its fine. Now I've been called for a scan at 19th week. So I got no choice than to sit still aor listen to music and concentrate!


• India
18 Feb 08
Cool! ur baby is kicking. so that means its a different case with different women. Thanks for ur inputs. take care:)

• United States
17 Feb 08
I was 4 months pregnant when I felt my oldest son move for the first time. And it might have been a little sooner than this with my second son. I know you are excited to feel your baby move, especially with it being your first and all, but just enjoy being pregnant and your baby will start kicking before you know it. :)

• India
18 Feb 08
will do that. But I must say u were lucky. I'm wondering if my baby is lazy. lol! I'm not fat that I wont be able to feel my baby, but anyways will wait to feel its first moves.

• United States
18 Feb 08
i truly think i felt something at 11weeks. i was laying on my side/stomach, and it felt like someone was tickling me from the inside. its possible, but not normal at all.. i was 17 weeks when i first felt the kick. from then i could feel it every once and a while. it wasn't till i was about 20 weeks when i felt them LOTS, and could REALLY distinguish it from gas LOL i was told the more "aware" of your body you are, the earlier you will feel the kicks.