Do you remember the old shows from 70's-80's? I loved them!!!!Did you?

United States
February 20, 2008 11:15am CST
I used love watching television when I was a kid. I remember Happy Days, Joanie loves Chachi, Love Boat, Fantasy Island, Hawaii five o. The love boat and fantasy island really did it for me. I loved that little guy tatoo. He really made the show. For those of you that have comcast cable in the eastern united states, on demand has a selection called "tube time" They have the old shows such as Fantasy Island, One Day at a Time, Silver Spoons, Different Strokes, Facts of Life ets. I love it. It got to the point that everytime I had a chance to watch television it was always the same thing just a different scenario. I started renting the Walton's on video from my local library when the librarian told me about the shows on Demand. If you dont have comcast, I know the other cable companies offer something similar. My kids even prefer to watch the older shows as well. There is also a channel called TV Land. My family loves it. It really brings back memories. I loved Charlies Angels and Rockford files. What were/are your favorites?
6 responses

• United States
22 Feb 08
Some of my favorties were Petty Coat Junction, Gilligans Island, That Girl, I Dream of Jeannie, Bewitched. Twilight Zone, Dark Shadows, Bananza, oh Yea and the IncredIble Mr Ed, the talking Horse. They had great cartoons back then too, The Flinstone,The Jetsons,Tom and Jerry, Bugsbunny, oh yea those were good times,good times...


• Australia
23 Feb 08
Uh yeah...those were way before the 70's. They were great shows though!

• Egypt
21 Feb 08
sure !! ilove it and i love watchin it ! but best is 90`s movies ma best ever is faceoff if u know it ;)

• United States
23 Feb 08
Face off is agreat movie!.. John Travolta did a whole bunch of great old movies. Then he came back and did a bunch of great new ones. Thats pure talent! I think we'll be talking to our grand kids about these movies.Nick Cage is good too. Have you ever seen the movie Saturday Night Fever or Grease? If not watch them I bet you'll like them.dl

• United States
13 May 08
I too love all of the oldies shows. Their are some stations on cable where you can get them and love to watch them. Little House on the Prairie and Waltons I love. Could really be stuck to tv all day if they were on.

• United States
14 May 08
Believe it or not I watch the Walton's every weekday morning. Little House on the Prairie is on after it. I love that show. I dont know why I just do. I also watch Fantasy Island too. Its a special on the cable package I have. Do you remember the Bionic Woman and the 6 million dollar man Steve Austin. I would love to see those again. Also I have been looking to watch Nancy Drew and the Hardy Boys with Parker Stevenson and Shawn Cassidy. If only..... thanks for responding and sharing my memories. dl

• United States
20 Feb 08
I remember watching Facts of Life, The Cosby Show, and Scarecrow and Mrs. King. Those were some of my favorites. I wasn't alive when some of the others were on, but like you said, they have TVLand and Nick at Nite, so I caught a lot of them in reruns. For some reason I liked Dragnet, but I also loved MacGyver. I never once have seen an episode of Silver Spoons though. Since it had Ricky Shroder I've heard about it, just never have seen it.

• United States
22 Feb 08
I was really little when some of them were on. I loved them. I have a million of them. I dont care for little house on the prarie or cosby. The spin offs kind of stunk as well. Remember the show A Different World? I hated that kid Dwayne Wayne. He got on my nerves. So didnt Denise Huxtible. I dont watch the shows when they are on now. However, I have seen and memorized every episode of Brady Bunch and Saved By The Bell. I liked Screech as a young kid not an adult. Hes a real moron today.

• Anderson, Indiana
28 Feb 08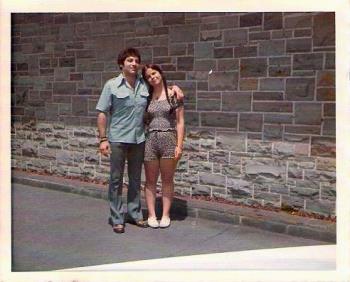 Those were all great shows! I would be writing forever to write down all of my memories, but I can tell you that I'll always have an UN-secret crush on Henry Winkler. LOL Speaking of having it bad for some actor, do any of you remember a daytime soap that was on for a couple of years or so called Return To Peyton Place? One of the cast members was named Dino Fantini, and he played a neat character named Gino Panzini. I wrote to the actor and told him that, if he were anything like the role he played and if he were single, I'd like to go out with him when my folks and I visited California that summer (1973). We then started talking on the phone, and, that summer, I did get to meet him. He, my folks, and I "double-dated" at an Orange Julius place for a couple of hours or so. Turned out that, although he was single (divorced with a young daughter), he already was interested in a divorced mother of a daughter who went to his church (and, eventually, they got married), but, that day at Orange Julius, Dino made me feel as if I were the only single woman on the planet! Really special guy! I'm a fan of both The Waltons and Little House On The Prairie. I've been to one of the Laura Ingalls Wilder museums (in Wisconsin close to the Minnesota state line) and have also made numerous trips to Schuyler, VA, which is the "real" Walton's Mountain. Also, when I was out in California in 1974, I found Earl Hamner's phone number right in the directory, so I gave him a call just to let him know how much I enjoyed his show. I told him that, like his John-Boy character, I was also an aspiring writer, and he asked me about that and, then, told me that he'd enjoy reading some of my writings. So, when I got home, I sent him a manuscript of poetry that had just finished not winning a contest for publication. This nice guy took the time to go all through the book, turn down the pages of his very favorite poems, and make suggestions re: where to send them.

• Australia
23 Feb 08
Man, those are some really great ones that you mentioned. I used to love Joanie Loves Chachi. Scott Baio was so adoreable, he still is for a guy his age! I also loved Silver spoons (I really wish I could see some episodes now). I used to love Alfonso Ribeiro on there, who actually played Alfonso on the show. He was so hilarious! He also played Carlton on Fresh Prince. One Day At A Time (I love the theme song to this one and to The Facts Of Life as well!) was another one of my favorites growing up and I remember a few years back, I would watch the reruns of the show every day. The facts of life was THE favorite of mine. I loved that show! I miss watching the reruns for this one too. I don't see them on anymore sadly :-( Diffrent Strokes was another one that I loved, along with Punky Brewster and Small Wonder. Rags To Riches was one of my favorites as well. Knight Rider...Man, were those the good days or what?