Clogged Pores.....is there any REAL cure?

Canada
February 20, 2008 12:46pm CST
I want to know if there is any real cure for clogged pores, other that squezing the crap that is clogging them out. I have tried multiple different products in my life that have claimed that they will prevent, dissolve, or remove clogged pores. None of them have really worked. They might have helped a little, but they did not sure the problem. I have tried scrubs, astringents, pore clearing strips (Biore), tea tree oil, and various facial masks. After trying all of these products, all I have concluded is that in my experience the only way to REALLY get rid of a clogged pore it to purge the clog out of the pore by squeezing it. This however causes skin damage resulting in redness, swelling, etc. If anyone knows of a prodcuts that GETS RID of clogged pores for real, please or please tell me what it is. If you have any other tips please let me know.
2 responses

• United States
28 Feb 08
I'm sorry Hon, but I'm in the same boat as you. I've tried EVERYTHING it seems, and nothing really works.... except squeezing them, which I know isn't good for your skin. Proactive didn't do a thing for me except irritate the crap out of my skin. Good luck!

• Canada
28 Feb 08
Yeah my sister tried that and didn't like it either. I know they say that it is bad for your skin to squeeze stuff, but the thing is, that if you go to a dermatoligist for help thats what they will do most times. I wonder if the product companies started the rumor that it's bad for y9our skin to try to sell more products to people looking for another answer.

• United States
21 Feb 08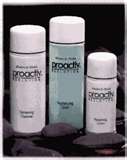 I had a friend that had terrible acne problems and she got a prescription of Proactive and she said it worked wonders for her skin. Now we see it advertized on tv all the time with celebraties and people like us and they all seem to love it too and you can get it over the counter now a days so no having to see a doctor anymore to get it.