Does your public hospitals in your country could accommodate all patients?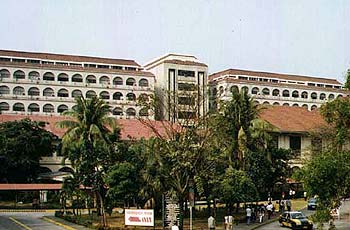 Philippines
February 20, 2008 8:44pm CST
I convey all those presidents in any country who pay attention to health. They are wonderful! And perhaps this brings me to a regret that our country, the Philippines, is absolutely on the opposite condition. It's like a pierce in our hearts that everytime we go to our nearest public hospital, we are always treated like joseph & mary in their times. There would be a miracle when one of them accepts you as patient for the reason that they don't have vacant beds. Thy would just refer you to the same hospital and or to a private one. Aside from that, we lack doctors and any other workers. Private hospitals only accepts people with f_ckin large inventory of money. But everybody knows people at the lowest level is at almost 90% in our area. I think i may have just opened my burdens and/or my experience. I wish your presidents would see this... our president as well.
9 responses

• Singapore
21 Feb 08
Yeah, its almost the same here. Our public hospital lack of doctors even nurses. In other work places, many professionals went abroad. Good and intelligent nurses are flying to US, working abroad, so they can get higher salary. Hmmm... "brain drained" na sa Philippines.

• Philippines
21 Feb 08
That really makes me sad. Because of the mismanagement & corruption in my country, almost all of our professionals, doctors went abroad to work and serve those people in there.. without taking into account of serving his own countrymen. BUT well, we can't blame them on their discretion, it's still the money that matters in life.

• Philippines
21 Feb 08
In my country, i learned many things around me by observing them well. When my baby boy was sent for a surgery, there are so many patients lining up in the OPD section of the hospital and I felt sorry for them coz some of the patients needs help for carrying such burdens on their illness but due to poverty and they dont have the money to spend they really wait in line p-patiently as they really want to have the cure. And they are asked tomorrow again if they limit the patients for the day. It is just so sad and unfortunate to those who cant afford.

• China
21 Feb 08
it depends on the hospitals,some hospitals always accept the patient whatever how much money the patient or family bring with,but other hospitals will definitely decline to the patient out of hospitals,,they will make any excuses they can to cheat the people and the media if the media concern about it.it's really sad,the function of public hospitals was serve people and we always call doctors angel,but currently it is not reality

• India
21 Feb 08
Hi, I am from India and in our State Kerala the Government hospitals have a pathetic condition. Those basic infrastructures are even not seen which is more adversely effected to those common people who find it very difficult to afford fees in private hospitals and in case of beds it is only for namesake.


• Philippines
21 Feb 08
I am in the same country as you are. I do pity some of the poor people who gets treated less because they don't have money. Once my niece was sent to the ER for Dengue and she was vomiting whole blood. They didn't even care because they look poor they assisted the ones who have doctors and rooms and my niece was waiting there for hours and nobody even put a dextrose on her. They were admitted to charity a few hours after they waited so long. Then my daughter got sick and we went to the same hospital. I have health card for my kids. And she was treated so well because they saw we were well off. I saw right there the difference how they treated the poor and the once who have some money. It was very frustrating. We have less medical workers here because salary here is not better compared to being a nurse or a doctor abroad. My sister who's a nurse is in Saudi. She has been working there for 2 years now. Sad to know with lots of money the government spends it to payoff congressman and some other people of the government they could have helped million of lives with the money they spend on nonsense.

• Philippines
22 Feb 08
I'm grateful for your view and of course, I'm sad again owing the fact that we're still helpless when it comes to health care. I just wish there is that someone who is passionate enough to touch everyone's lives and served as the light to humanity... other than the Almighty!

• Turkey
21 Feb 08
in y country the scene is nearly the same.lately the government make a new law giving the chance of accomodation in the public hospitals with your identity card.but those hospitals are insufficient so many people cant make use of it.additionally, hospitals are few and the population is as much as 70 or 75 million many people... i think u understand the situation (it is impossible not to

• United States
21 Feb 08
Unless you are critical, meaning in dire need of medical care, the hospitals have to see your insurance first before they admit you for anything. The U.S. healthcare system is a joke. There is no such thing as "free healthcare" in this country.

• Philippines
13 Aug 09
Share lang po may neighbour po kami sinaksak habang natutulog, may apat na tama ng sakasak sa tapat ng baga (lung) dinala sa tagaytay city medical center ng 12:midnight aug. 12 2009 just after the incident, pero hinihingan ng 130,000 pesos ang pamilya ng nasaksak walang naibigay ang pamilya, tinangap naman sa hospital yung pasyente kaya lang ang ginawa ng mga doctors dun nilagyan lang ng dextrose yung pasyente at hinayaan lang na nag durugo ang sugat, bandang 2:00 pm aug.12 2009 may taga city enginering office ang nag punta sa hospital at nagalit sa mga doctor dahil hindi inaasikaso ang pasyente kahit na critical ang lagay nito, nung tumalima ang mga doctor para gamutin ang pasyente dahil nagalit na ang taga city enginering office alas 2:00 ng hapon ayaw ng tumangap ng dugo ang katawan ng pasyente at namatay nadin ito. Ganito ba ang mga hospital dito sa pilipinas? pag wala kang pera papabayaan ka nalang na mamatay ng dilat ang mata?..nasaan ang konsenya ng mga taga gobyerno lalo na ang pangulo na todo promote sa health insurance ng mga pilipino lalo na ang mga mahihirap nating kababayan.