What are your favorite Dog Breeds?

United States
February 21, 2008 10:15pm CST
Mine are Huskies, Collies, Golden Retrievers, Duck Tolling Retrievers, and my absolute favorite...The Finnish Lapphund.
8 responses

• United States
22 Feb 08
My favorite breeds are Doberman Pinchers, Rottweilers, and English bulldogs. I absolutely love each of these breeds, which i will be getting dobbie on saturday and i'm so excited about this. the english bulldog will be bought when my husband comes home from overseas as our inside dog. God bless

• United States
22 Feb 08
I love Rottweilers!! I'm not very familiar with Doberman's and English Bulldogs, although I don know what they look like. My grandfather's neighbor had a rottweiler and he was the sweetest thing ever.

• United States
22 Feb 08
Doberman's look somewhat like rottie, but they have longer noses and aren't as big and their ears are cropped. they are beautiful dogs and the cutest puppies. i'll have to post a pic when i get him on saturday. but, yeah, rottie's are great dogs to have and they are very sweet, but usually very protective of their families..which isn't a bad thing these days. my last Rottie was so protective over my daughter after i had her. she would stand in between her bed and anyone she didn't know. she wouldn't growl or bark, she would just stand in between this person and the baby. it was so adorable and comforting all at the same time.

• United States
22 Feb 08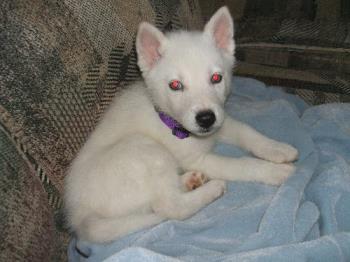 My favorite breeds are Siberian Huskies and Alaskan Malamutes. They are great dogs and puppies and pack oriented and they view the family as their pack .. They are great companions and very smart. I just love the days out of these two breeds. The nice thing is after 7 yrs of asking for a puppy I finally got one. Yeah .. My little guy is a 2 month old AKC registered Siberian Husky male all white.. I can show and breed him when he comes of age if I want. below is a picture of my new addition.

• United States
22 Feb 08
Oh and here is a link to the breeder that I got my puppy from. He is the nephew of shorty from the disney movie Eight Below. This is the link that shows the puppies that are in the same litter my puppy was in. http://www.lauradalessiberians.com/Litter%205.htm And this is the the puppy for sale page that states the puppies are nephews to Shorty from Eight Below. http://www.lauradalessiberians.com/Puppies%20For%20Sale.htm I'm currently trying to convince my other half to let me get the red and white from the litter above my pup.. LOL!! I so love these puppies and doggies.

•
23 Mar 08
i love huskies got 2 myself although mine is distructive lol they are gorgeous dogs!

• United States
22 Feb 08
German Shepherd, hands down. I like most any big dog, but not particular to Dobermans for some reason. I've never been fond of small dogs, but my husband had three Jack Russells and a Cockapoo and I loved all of them. Given a choice, though, I'll stick with the big ones. Doesn't have to be a purebred, we'd no doubt adopt from a rescue or something.

• United States
22 Feb 08
My favorite breeds are the silly looking, cute dogs. Bassett hounds and blood hounds. I guess because my sister raised them. Believe it or not, I own a pitt/boxer mix and a dachshund.

• United States
22 Feb 08
I like Huskies, St. Bernards, German Sheppards, Golden Retrivers, and somewhat a Chow. My dog is part chow/husky and hes just so awesome and lovable! And of course cute!!


• Malaysia
22 Feb 08
I like Huskies too, but my favourite is of course the breed that I have, which is a Japanese Spitz.