What Did You Think Of The Movie P.S. I Love You...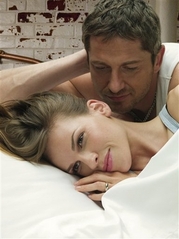 Australia
February 22, 2008 1:27pm CST
I loved this movie! I have not seen a romantic comedy like this in a really long time. Gerard Butler played one of the most sweetest, most caring and loving characters, it almost makes you want your spouse or boyfriend to have some of his qualties. He was so funny in this role as well. Not to mention completely and adoreably HOT!!! I loved Hilary Swank and Harry Cognic Jr. as well. I was very impressed by Hilary Swank in this movie and I haven't been impressed by one of her movies in a really long time. Harry Cognic Jr. was his usually adoreably humorous self of course...Cathy Bates did an excellent job as Hilary's mother but then, doesn't she always? Last but not least, Jeffrey Dean Morgan (AKA Denny on Grey's Anatomy) was so great in this movie as well. I hated the fact that Gerard's character died in the movie. However, they made up for it not only by the fact that he still managed to play a leading role in it but also by the fact that Hilary went with an almost equally adoreable character in the end, who was played by Morgan of course. Where I would have loved to see Gerard's character been the one she went with in the end, Morgan's character was a great substitute! I would love to hear some of your thoughts, likes and dislikes on this movie?
1 response

• United States
22 Feb 08
I really loved this movie too, very sweet and fun! I loved the acting from both the main and supporting characters. Hilary Swanks friends were hilarious, especially on the boat!! Her new love is a hunk too, loved the part when she saw him naked! lol. "Do I have to lick it off the counter?" I love Gerard Butler, he's a greta actpr and I would marry that guy if he asked me! lol. Sexy, sweet (in real life), has an accent!!! What more could you ask for!? lol. I really like this movie and plan on getting it on dvd when it comes out.

• Australia
22 Feb 08
Oh yeah, I forgot about her friends,they were hilarious! Lisa Kudrow was so awesome in there and so hilarious! I loved the parts when she kept asking the men the questions and then when they didn't tell her what she wanted to hear, she would just walk away LOL...Too funny! The part on the boat was so funny and the part that you mentioned when she asked William (Jeffrey Dean Morgan) if she had to lick it off the counter, that was so funny! It's playing at the dollar theater here now and I'm going to take my husband to see it because when I went to see it he went to see Alein VS Predetar 2, what a guy! pfff LOL...

• United States
23 Feb 08
Yeah I love Lisa Kudrow! I'm a fan of hers because of Friends. She is really funny!! I thought it was sad that after she kissed that one guy, she walked away! lol. No no, the guy asked Hilary if he had to lick it off the counter. She wasn't aware of the spilling because of his nakidness ;P lol. And then when she asked him if he wanted a drink, he said it! =P Of course your hubby would rather go to AvP. lol. It's nice that he'll let you drag him to this one too though ;P I actually want to see the Alien movie O.o Was it any good? lol. Thanks for best repsonse!