I still remember the distinct smell of my Grandma.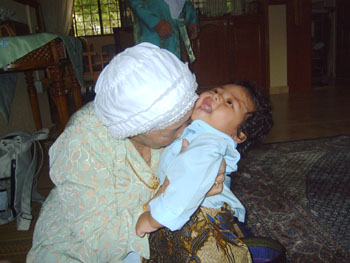 India
9 responses


• United States
26 Feb 08
Yes I do remember people by smell. The good smells of my grandmother still hang in my mind. The after shave my father wore still is fresh in my mind. On the other side of the coin, I have a relative who needs to smell better. The distinct foul odor of this person's body is absolutely disgusting. This person is married and am surprised the spouse doesn't make some sort of comment about the lack of bathing or showering. Guess there are two sides to every story...lol

• United Kingdom
23 Feb 08
Oh yes, the smell of white musk! When my aunt was alived and I went to stay with her everything in her house smelt of white musk, it wasn't an unpleasant odour it was a smell I always associate with her, it was nice actually and you got used to it. Now, whenever I smell white musk I always think of her and I easily flashback to envisaging her house in my head.



• India
28 Dec 08
Yes, my grandma's smell...the smell of her house and the outside area.....they all were distinctly different smells. And I still remember them years later. There are so many smells from my childhood that I remember....sometimes I remember the smells but can't place them.


• Indonesia
23 Feb 08
yes, i also still remembering the smell of my grandma. she already passed awaybut i still remembering howwas her smell. i know its not quite good smell but it also not quite bad smell. oh i just mising her at this moment :(

• Ireland
23 Feb 08
I remember the smell of a very dear aunt of mine, who has long passed. She always wore a gorgeous perfume. And years ago there was a certain listick she wore that smelled really nice too. You always knew when she was in the room. She always smelt really nice. Thanks for the memory. :-)