procrastination.....

United States
6 responses

• United States
25 Feb 08
Geez it would be a shorter list on what I don't procrastinate in doing. Sometimes MyLot, sometimes cleaning off my pc, playing my game, laundry, dishes, house cleaning, returning phone calls, cleaning out email, making cookies for Hubby, going shopping and cleaning off my desk are just a few. I always get them done but I tend to put them off till I feel more like it. **AT PEACE WITHIN** ~~STAND STRONG IN YOUR BELIEFS~~

• United States
26 Feb 08
I so know what you mean. LOL!!Have a nice one and thank you for your response.

• United States
25 Feb 08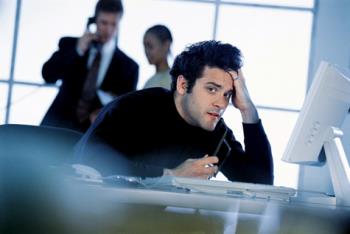 I do. Mostly on everything possible. I have to set up deadline for myself to finish everything on time. I may look like very discipline but I am not.... Life is too short...

• United States
26 Feb 08
I know what you mean I have a very structured day ...

• United States
25 Feb 08
Oh boy, I hope none of my professors are on here. Homework- not all of it. Just the book reading. I always put that off until anything written is done, it just bores me too tears half of the time. But everything else I usually take care of right away especially if I don't want to do it. Otherwise it will hang over my head and I don't like that either. Have a great night, hun!

• United States
26 Feb 08
I hear you I have done that my self too.

• United States
25 Feb 08
I procrastinate about answering some discussions, because I find myself thinking too much about the answer instead of typing it. I do that with a lot of things. I can think about doing them, how much they might need to be done, and I can visualize the whole scene, moving the stuff, placement, all of it, see it clear as a bell. But do I do it? Not usually. Hey, why do today what you can put off till tomorrow? I have to psych myself up to do something, plan for it, wake up in the morning geared to nothing else. Put on some music, and I'm off. That's the only way I can get anything done, Bella. With music. And, would you mind telling Goodie that she is FORBIDDEN to move any more furniture? Thank you, I appreciate that. Maybe she'll listen. Ha!

• United States
26 Feb 08
Ok first off you shouldn't think of disscussion the way you do. think of them as little pink fluffy clouds to play with.. There that should make you happy about tackleing them and as for Goodie she better have listened to the warning that I gave above I thought I was perfectly clear no more moving heavy furniture .. UNDERSTOOD?

• Canada
24 Feb 08
The housework!! going out places if its cold out. . I procrastinate on things that are not that important to get done, but then if i procrastinate it for too long then i'll get mad at myself and be mad untill it gets done and if anyone gets in my way LORD HELP THEM!! lol What do you procrastinate bella ?

• United States
25 Feb 08
Hmmm, Laundry is one I hate going into the basement and I hate leaving the house in the cold weather and I absolutely hate pulling weeds in the garden LOL!!!

• United States
24 Feb 08
I procrastinate on giving bad news to people. I probably do that, because for me its a hard thing to do.

• United States
25 Feb 08
I know what you mean ..LOL!! I hate giving any one bad news. I feel so bad about doing it.