Koala Crossing - Searching for Water in Drought!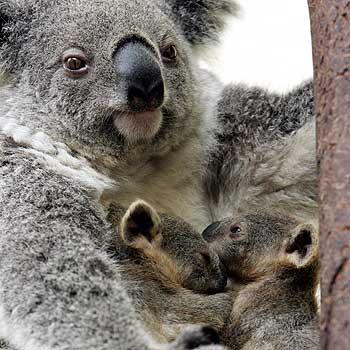 Australia
February 24, 2008 9:47pm CST
This morning I was collecting my two cats from the vets cattery, & there was a koala calming walking across the car park. It had just crossed a very busy road. I watched him for a while. He was checking out the various trees. It is becoming very common to see koalas in right in the middle of suburbia. They are searching for water. As my suburb is in the footballs in a heavily wooded area, koalas are in abundance. People go through all sorts of manoevres to avoid them on roads. A couple of weeks ago, our friends around the corner had an interesting experience with a koala. When they went out the back yard, there was a koala drinking from the goldfish pond. Our friend flimed it for a while, then returned inside. The koala followed him & clearly wanted to come inside too. He explored around the house a fair bit, & let my friends pat him. It was decided it was time for this koala to return to his tree opposite the house. There followed a few minutes of shenaigans, as the koala really wanted to stay inside. Eventrually he was ushered ouytrside, & seen safely across the road. I don't have a photo of this particularly koala, but will attach another koala shot I have.
7 responses

• United States
25 Feb 08
I cannot imagine a koala bear coming into my house and then to want to stay!! Holy cow!! That's amazing!! They're such beautiful creatures, aren't they? I watched a tv program on them and they're very interesting indeed except for the part of what they're instintivly have to do in order to survive but it's nature at it's best.... ugh. I'm not saying what it is because it's just too gross.

• Australia
25 Feb 08
I am not sure what that gross part is? I had to think about this & I can't remember anything gross? You will have to remind me.

• United States
25 Feb 08
I'll tell you in a pm....

• Australia
26 Feb 08
I received your PM thank you. You are quite right about what you wrote! Natures way I guess.

• Philippines
25 Feb 08
What a very cute anecdote about koala's... i never thought that these cute creatures actually go down from trees... i thought they just stay there... but seeing them cross the street and roam around must be heaven for tourist and residents alike... i hope they don't get bumped or runover by vehicles... Are there certain punishment for runnin over Koala's in your area?... i remember when i was still in GTMO, Cuba... it was like a deadly sin to hit an iguana... a person can be fined like $10,000 dollars... and for workers like me... it's deportation...

• Australia
25 Feb 08
They love being high up in trees, but yes, they do come down to get water. They are run over by cars every now & then, which is very sad. If someone deliberately killed a koala, there would at least be a fine. The problem would be prooving that they deliberately did this.

• United States
25 Feb 08
This is cute about the koala being let to come into the house. I bet that was a first for the koala himself. I have always adored the koala bear. They look so cute. It seems that more wildlife are getting so used to humans. They are not afraid of them anymore. The humans are taking more and more of the animals habitat and it is a shame. I know there is nothing to be done about this happening but it sure is a shame because there are those who would rather harm a animal than help it.

• Australia
25 Feb 08
Yes, that is right. Most people try their best to provide a safe environment for animals, but there are idiots out there who get pleasure from harming them. Apparently the one who came into the house was very young.

• United States
25 Feb 08
That would be really cool!! You don't have to fear them at all do you? It is sad that they are having trouble finding water.

• Australia
25 Feb 08
Yes it is due to the drought that they are having to search for water. They have even been known to drown in people's backyard swimming pools.

• United States
25 Feb 08
That's so sad that they are having to resort to this to find water. I think I would put out some special water bowls just for them and maybe provide a cool place for them to rest but I don't think I would go any further than that. They are wild animals and shouldn't get used to human contact.

• Australia
25 Feb 08
That is very true. Even though koalas are now living in suburbia, they are best being left alone. The authorities have recommended that we provide water for them. I have a big bowl of water out the front of my house.

• United States
25 Feb 08
We have had black bears in the suburbs in Minnesota due to a large forest fire as well. It's a shame but they also need to survive and will look for ways to get nutrients and water. HAPPY POSTINGS FROM GRANDPA BOB !!~

• United States
25 Feb 08
How I envy your friend. I would love to have had that experience with a koala, I have a special place in my heart for them as they bring me memories of my beloved grandmother (who was born in Australia) and always told me stories about koalas.

• Australia
26 Feb 08
Did your Grandmother emigrate from Australia then? She would have seen a lot more koalas in her days, than we do now. Their environment has been significantly effected.

• United States
26 Feb 08
Yes she emigrated to Scotland. What is rather funny on my mother's side of the family my grandmothers's 2 brothers emigrated one to Australia and one to Canada.

• Australia
27 Feb 08
In those days it was unsual to emigrate from Australia to Scotland. Usually it is the other way around.

• United States
25 Feb 08
I would love to see a koala up close. They look so cute. Too bad they have to go searching for water, it could be dangerous for them. I always thought that koalas were shy, I'm surprised that one followed your friend into his house. Are koala's ever kept as pets?

• Australia
26 Feb 08
No, koalas are not allowed to be kept as pets. They certainly are cute, & people are allowed to hold & pat them in some wildlife parks.