What is the BEST "birthday gift" for a smart little boy age 5?

Singapore
February 25, 2008 7:43am CST
I have a nephew, named Delano. He is smart boy, because he is easily understand numbers and alphabets. he even able to write them correctly. I want to give him a very nice "birthday gift" that really good for his intelligent. I don't want to give him a batman/spiderman doll, robots, or cars. His birthday will be on next week. I wanna give him something that really improve his creativity. Maybe something that really interesting and fit for him. Mylot-ers, do you have any idea? Thanks so much.
4 responses

• United States
25 Feb 08
I actually believe in giving a kid what he wants, rather than what you or his parents think he needs. If he really likes learning, then there are games and stuff that can help him. as a non-parent, tho, and with really no kids of friends at that age anymore, I'm afraid I'm rather out of touch with what they are now.

• United States
25 Feb 08
If you want to buy something that improves his creativity, why not get him some arts and crafts things, easel board with paints and sorts, or magnets, or science appropriate gadgets for five year olds. My son got this science thing and when you connect certain things together, it makes things work like a little light, makes sound etc.. I can't remember the game. I have to dig it out but I thought it was cool. Of course he would need an adult to help supervise him though. Another thing you can do is ASK him what he wants for his birthday, then he gets exactly what he wants and he'll be happy with it!

• United States
25 Feb 08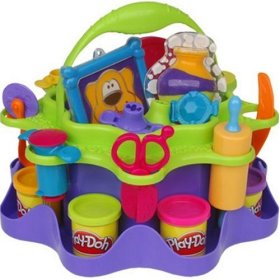 Have you looked at any of the Melissa & Doug selection of kid toys? They usually have some really cool toys that are also creative and educational. You did not mention how much you were willing to spend. So I hope that means that price doesn't matter too much! Usually the best toys to stimulate creativity are the ones that allow a child to use their imagination without too much suggestions on which way to go, things like Lego or Playdoh (or similar-the caddy pictured is designed for several kids, but doesn't mean you can't give it to one child), or something as simple as an easel (whiteboard) with some dry erase markers (or a smaller version if you are looking at cost) will be a great gift for him to unleash his creativity. Good luck choosing and happy birthday to Delano!

• China
25 Feb 08
give him some transformer dolls,it could foster his work profiency and boost his imagination.i am so sorry for my stipud brain,i cant think out other good gift u can give him.maybe sugars were another good tips for you hehe.