Do you have a unique pet or would you like to have one?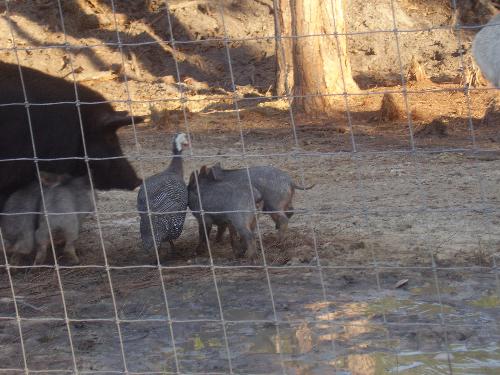 United States
February 25, 2008 11:27am CST
I have a guinea hen. He is so cool! He hangs out with my pig and acts like he is a pig too. He used to sleep in a tree until the pig had babies and then he decided that he was the Dad somehow. He started trying to help care for the little piglets and squaking and pecking at them if they got to far away from Mama or didn't stay together. He stopped sleeping in the tree and started sleeping with the pig and her babies. He sleeps on top of Mama pig. We sold the piglets at auction and we thought that he would go back to being a guinea hen after that, but nope he still thinks he is a pig. Here is a picture of him with the Mama and piglets. Do you have a unique pet? Would you like to get a unique pet?
8 responses

• United States
25 Feb 08
We used to have several guinea hens, but they were all killed by owls late at night while they were sleeping in our windowsills. We do have a peacock and 2 peafowl still though. The peafowl are mean little suckers and they chase the cats around the yard sometimes. The peacock is pretty nice and very beautiful with all his bight feathers.

• United States
25 Feb 08
I love peacocks! Some of my neighbors have them. They are so beautiful.

• United States
25 Feb 08
Hubby has thought that he would like a hedgehog. That would be pretty unique! It would be impractical for us to have any living pets where we live, at least at present, so we will have to think hard and long about this one. Otherwise, I would be right out to your place trying to get you to give me one of those little goats.

• United States
26 Feb 08
Too funny! My daughter used to want a hedgehog. Good thing I didn't let her get one because we are already stuck with her dog named fish because she couldn't take him with her when she moved out. Just kidding, we love our dog named fish and our bird named gator just as much as we love all our other animals. LOL

• United States
26 Feb 08
Great names. We have a stuffed Tiger we call Lion and a stuffed Lion called Tiger. Dunno what the 3rd "cat" is, but we pretend he is a Cheetah and call him Cheater. His name was inspired by a restaurant at one of our local resorts, except that when the new owners bought the place out I think they changed the name. All of these stuffed cats are dual function, of course. The are zippered bags we use as luggage.

• United States
27 Feb 08
Oh I would love to see that luggage! Where on earth did you get it? I love BIG cats. Lions, tigers, cougars, cheetas and the like.


• India
3 Mar 08
nope but i am a unique one

• United States
29 Feb 08
My unique pet was a squirrel. We had raised him from a baby, my son had found him on the side of the street after it had rained and he brought him home. He was probably 4 to 5 weeks old at the time. We had him for 7 yrs., and he passed away Sept 2007. His name is Junior and there isnt a day goes by that I dont think about him. The state I live in I wasnt suppose to keep him for a pet, but he was unreleaseable because he wasnt afraid of cats or dogs, and we were afraid he wouldnt last long in the wild. He became sick and I couldnt find a vet to help me, I was able to find antibiotics and we thought he was going to be all right, but it wasnt to be. I have a photo of him sitting on my husbands head, he was truly a good little guy, and is missed very much.

• United States
3 Mar 08
That's a really cool pet! Growing up I had a skunk. Her name was stinky. LOL

• United States
26 Feb 08
Mostly I've had cats, dogs and fish. My Dad had a pet goat for a few years that was named Ace but he had to give it away b/c it kept attacking thier cars and trucks. One of our foster kids had a pet Gecko for a while that he named Gieco LOL **AT PEACE WITHIN** ~~STAND STRONG IN YOUR BELIEFS~~

• United States
26 Feb 08
Cool! We have 4 goats. They are named Allie and Callie after my grandparents and the babies aren't named yet because I don't know if I'm going to keep them yet. My son's each have a leopard gecko. Their names are Butch and Kanga.

• United States
25 Feb 08
We used to have an iguana. When we got him (some lady was giving him away for free) he was about 3 feet long. He had a giant cage in our bedroom, and during the day, he would free roam in our bedroom, he only slept in the cage at night. He was so funny! He grew to about 6 feet long. Unfortunately, we found out we were pregnant with baby number 5, and the baby had to sleep in our room, which meant his free roam days were over. I was not comfortable leaving him in his cage all day every day, so we gave him to a friend of ours that raises various reptiles. We still visit him often, and he is one big ol guy now. LOL He was awesome, and someday, when the kids are all bigger we want to raise another one.

• United States
25 Feb 08
A friend of mine used to have an iguana! You are right. They ARE really cool pets. My boys have leopard geckos because I told them that iguanas get too big for them to keep them in their room and I'm not about to have them roaming free in the house since we are hoping for a baby soon.

• United States
8 Jan 09

LOL! that is so cute! I love that story, and I think its pretty neat when animals adapt like that. I have a box turtle that I love. He is not too unique, but I do love him. I Would really love to one day own a flying squirrel!
Flying squirrels are the oldest living line of modern squirrels (modern, as opposed to their precursors, the early-Eocene squirrel-like rodents called "paramyids"). Evidence of their relative's existence goes back to the late Eocene period, between 38 and 55 million years ago! Tree squirrels made their first appearance on this earth during the late Oligocene period, about 30 million years ago. Ground squirrels came in waves, with some appearing 28 million years ago (very late Oligocene period), late Miocene period (8 million years ago) and very late Pliocene period (2.5 million years ago).
http://www.flyingsquirrels.com/origins.html

• United States
11 Sep 08
Iguanas are cool I have one his name is boogie because he runs fast and I am hoping to figure out how to get his picture on this discussion board . Any suggestions? Help ? please and thank you