How many times a week do you iron your clothes?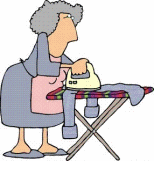 United States
February 26, 2008 3:25am CST
Hello co-mylotters,How many times a week do you iron your clothes?Me, I used to iron all clothes need to iron once a week. Every Sunday. I do it to save electricity and thus saving money too. But I have notice, some do iron everyday, while others twice or thrice a week. There are also some who only iron clothes when they need to go out somewhere. How about you guys here, how many times a week do you iron clothes?
10 responses

• India
26 Feb 08
i iron clothes before wearing them i like freshly ironed clothes very much so when ever i go out i iron them neatly and wear.i mostly use cotton so i have to iron them to make it neat.

• United States
29 Feb 08
how about when there is no electricity and you can't iron them, do you postponed going out? Have you tried using charcoal to iron clothes?

• India
29 Feb 08
i usually have some formal dreesess iron and kept.and no i never used CHarcloal for ironing..and we have backups..

• United States
1 Mar 08
Backups, what you mean? Do you have electric generator at home? I am curious what you mean you have backups.


• United States
1 Mar 08
yeah not practical. Your monthly bill for electricity will go up and then you have to make an effort everyday to iron your clothes, where as if you do it weekly, you can save electricity and you save time and effort too.

• United States
27 Feb 08
whew , i really dont iron my clothes unless im going some where , say like if i iron a pair of jeans and a polo shirt after i wear it , i fold the jeans and hand the polo plus i use starch too so i really dont iron my clothes that much

• United States
1 Mar 08
I have heard about using starch, well I am not sure, but i think it hardened the clothes so does not wrinkle much so it would not be necessary to iron. It would be nice because you will not worry about ironing clothes at all, but for me, I would always prefer to iron my clothes than using starch. Thanks

• United States
27 Feb 08
Once a week, I have this wonderful steam iron that works pretty fast. I do my suits while the clothes are in the wash and the rest afterwards, I even get that freash dry claen smell when I'm finished.

• United States
1 Mar 08
I also love the smell of newly ironed clothes. By the way, what is that steam iron you mentioned? How does it differ to electric iron?

• United States
27 Feb 08
I iron only when necessary. Clothes come out of the dryer and are folded/hung immediately so I rarely have to iron. My husband, on the other hand, irons his own clothes because I didn't do it well enough lol (perfectionist personality plus a stint in the military that only encouraged it) He irons every morning. I don't get it.

• United States
29 Feb 08
I iron only every Sunday, but on summer time, I did not do it every Sunday, only when I go to church and would like to wear clothes which is wrinked. About soldiers, I have seen many here, and really notice there uniform and well ironed, there is no wrinkles. :D

• United States
26 Feb 08
I have tried to get my kids into the habit of ironing one day a week, but they rather do it everyday, so I let them, but me i just buy things that are wash and wear...lol...

• United States
29 Feb 08
Doing it once a week saves electricity and saves time and effort. Most of my cloths too are wash and wear too. Thanks for responding! :P


• United States
29 Feb 08
Hello m105508 Well, wearing clothes just after it was iron feels very comfortable, but at home never do it, mother always told us to save electricity, and then when I was out for college, our landlady only permit once a week for ironing clothes. Thanks for responding ;-)

• Philippines
26 Feb 08
Hi there! I rarely iron my clothes. But that's because I am not studying currently and I am not working in an office too. I only iron clothes on Sundays, when we're going to church. But that's only when the clothes are really wrinkled. I may be starting to iron clothes regularly when I start continuing my studies in June. I'm likely to iron my uniforms twice a week.

• United States
29 Feb 08
Hello again Angel, Well, when I was still studying, ironing clothes has been a must because I don't want to go to school with wrinkled clothes, even when there is blackouts, I do find ways to iron my school uniform, that is by using charcoal. Now, I still iron clothes, for my sister who are still studying, they are still young to do iron their clothes, so I am the one who iron it for them. Thanks for responding.

• Canada
12 Mar 08
I don't iron my clothes anymore, or at least not very often. I only have about 3 blouses and 1 pair of slacks that I iron but I don't wear them very often so I don't have to wash and iron them very often. How is it you saved money by ironing all your clothes once a week on Sundays? Whether you iron once a week or once a day, it is the same, to me anyways. You would still be using the same amount of electricity either way, wouldn't you?