Create a ringtone with your favorite song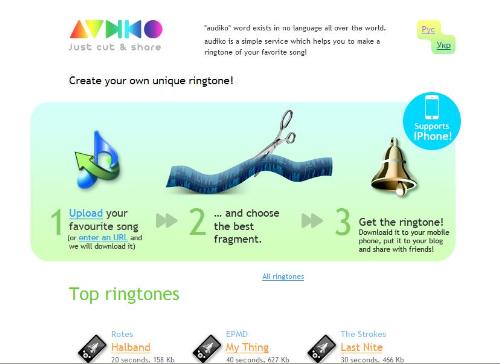 Italy
February 26, 2008 5:28pm CST
Hi friends! Today turning to the Web, I found a service that we can be helpful when so tired of ringing our phone. With two clicks can create online, for free and without download and install software, a ringtone from love song more or what we prefer. It 'just go on the site http://audiko.net load the song from our PC or web address where it is located and click OK. When the song is loaded, we choose the 30 seconds that most prefer and click OK. fter a very short time can download the ringtone in mp3 format or format for iPhone. The site also gives us the link to download the ring tone on the phone via wap and the code to enter the ringing in our blog. The ringtone created is inserted in a public archive where the poosno also download other users, so if we do not want to create a new ringer just go to the store and choose one of ringtones already present. Hoping to give good news, good fun.
9 responses

• South Korea
27 Feb 08
i hope its available in asia

• Italy
27 Feb 08
Sure. It works all over the world. Hardly does any website.

• India
4 Mar 08
Thanks zenith2007 for giving such a great information about ringtones creator, as i am looking for this type of software from a couple of months but didn't find a better one. Hope this will work. thanks.

• United States
28 Feb 08
Just what i've been looking 4, thank 8)

• India
28 Feb 08
That sounds cool. It consumes a lot of time to create ringtones ourselves by editing favorite songs if a person is fond of changing ringtones. Thanks for sharing the interesting info. Now I should checkout that site.



• United States
26 Feb 08
Ah, fantastic! This is why I love myLot as there is always some new hint or tip coming over the wire. This one I really like and cannot wait to get rid of Beethoven and replace him with a lead in to Serah's Flight of the Stork, which starts out very quiet and then gets louder as it picks up. By then, I will have picked up. Tee hee.