Do you visit your parents often?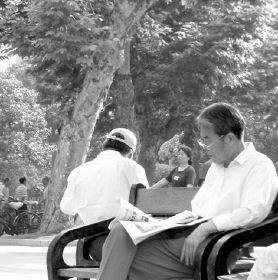 China
February 27, 2008 12:05am CST
We all fly away from our parents and have our own home when we grow up. Do you miss your parents and visit them often? My parents prefer to live by their own. They are growing older and older, and I really want them to live with me in order to take care of them everyday. They still want to be independent. I visit them once a week and bring them some groceries.
5 responses

•
27 Feb 08
i visit my parents quite regularly, my dad lives in the same village as me, and it is a 2 minute walk to go to his house. my mum moved just over a year ago 214 miles away, and my dad will join her soon, but has work commitments. when school holidays come around, my dad goes to my mums to see her and my 2 younger sisters that also live with my mum and generally me and my son go too. i used to see both mum and dad every day, but with mum moving it's now for about 4 weeks in the year, dad i still see more or less every day.

• India
27 Feb 08
I would like to live with my parents.. but being with them puts a little bit of restrictions upon me which i m not used to be in now..i m 23 now and i have been away from home for around 6 and a half years..Though it was not my will i had to.. My family stays in a small city in India .. u would perhaps call it a villagebut i had to go away for my studies..I was the first amongst my family to go and stay away from home.. i spent 2 years doing my senior level schooling in a different city and then 4 years of graduation in yet another different city.. In those days i used to visit my parents once in every two months..But now since i m in job and yet again in a different city that is around 1700kms away from my home town so that makes it quite difficult for me to visit my parents.. I haven't seen them since the last 6 months.. And i hoping o visit them in April..

• Philippines
27 Feb 08
My Parents are not yet that old... my father works abroad... while my mother stays at home and takes care of my niece... but i visit her every saturday with my baby and we go to the mall to eat lunch or just to walk around... and i call her like every other day... i don't think they would want to live with any of their children when they are like senior citizens... they like the independence...

• United States
27 Feb 08
You sound like a wonerful child. My parents live 3000 miles away...I visit 2-3 times per year. I feal selfish but I kind of like the limited contact most of the time. Other times, I miss them tremendously. They are in their late 60's...I fear them getting older...I don't know how it will work out with their care.

• Australia
27 Feb 08
It is very nice of you to want to care for your parents,they are lucky to have such a supportive child that loves them. I see my parents a few times a week they only live about 5 minutes away. It is good to catch up with them, my parents love playing with my kids (grandkids),that is their life now. My parents still work full time, in their 50s so they do not need to live with me for a while yet.