Is getting Angry a Sin?

Philippines
10 responses

• Singapore
4 Mar 08
Angry is not a sin, its normal to human. But i will turn into sin if you cant control your emotion and hurts other people around you, and its become sin... Its ok... i do also sometimes angry, but i always control it from hurting others...


• United States
28 Feb 08
I actually looked up anger and did a study in the Bible on it. My husband used to have a really bad anger problem. I always told him it's okay to get angry it's how you react to that anger that is the main key. Anger is good at times if used in the right way. here's what i came up with....Numbers 22:29- Because you made me look like a fool. ( We get angry when our pride gets hurt, we get angry when someone else is acknowledged over us, we get angry when we don't get our way, we get angry when we become jealous of what others have or have done, we get angry when we are confronted about our sinful actions and are exposed, and anger isolates us from others) Psalms 37:8- Stop your anger! Do not envy others-it only leads to harm. James 1:19-20 Your anger can never make things right in God's sight. ( Anger produces ungodliness and evil motives in us, anger blinds us to what is really good and right, anger..in it's strongest form...can lead to murder. James 3:5- The tounge is a small thing, but what enormous damage it can do. (avoid acting on impulse in the heat of anger. you are bound to do something you will regret. However, Anger at sin is not only appropriate, but necessary.) Ephesians 4:26- Don't sin by letting anger gain control over you. Don't let the sun go down while you are angry, for anger gives a mighty foothold to the Devil. ( anger is like a skunk in the house. don't feed it to encourage it to stay. and try to get rid of it as soon as possible, confront those with whom you are angry in order to restore the relationship.) 1Corinthians 13:5- Love is not irritable, and it keeps no record of when it has been wronged. ( love is the mightest weapon of overcoming anger.) Proverbs 11:29- Those that bring trouble on their families inherit only wind. Epehsians 6:4- Don't make your children angry by the way you scold them. ( to knowingly provoke your family to anger consumes the binding force, love, that bonds your family together. The control you seek actually enslaves you, for those you sought to lead have left you to your own devices.) Romans 1:18- God shows His anger from heaven against all sinful, wicked people who push the truth away from themselves. Deuteronomy 4:25- don not corrupt yourselves by making idols fo any kind. This is evil in the sight of the Lord your God and will arouse His anger. (God cannot wink at or tolerate sin, for sin is a violation of His righteousness and His demands for holy living, God's anger at our sin may result in discipline. The discipline is not designed to destroy, but to correct and redirect. However, humility quenches God's burning anger.) Psalms 30:5- His anger lasts for a moment, but His favor lasts a lifetime. ( recongnize God's discipline, stop your sinful actions, and enjoy a restored relationship with Him.) Psalm 103:8- God is slow to anger with us. it's okay to be angry and is even good for us at times, it's how we handle ourselves when we become angry..if we lash out and hurt someone due to anger than we are definitely sinning and we are also building up walls that can't easily be knocked down from a loved one. as long as your anger is put to good use and it's not hurting anyone physically or emotionally, anger is fine. when you cross that line though, i believe it's a sin. thanks for posting and God bless

• Philippines
16 Mar 08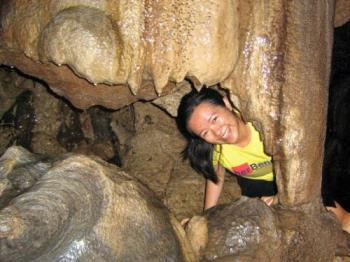 I don't think it is a sin. I always misunderstood my mom when she gets angry. I am not sure but maybe they just want to let me know and emphasize that she don't want us to experience what she had in the past. However, maybe, there are better ways to saying it rather than being angry because I always try to control my emotions when I'm really pissed off.


• Philippines
15 Mar 08
I think being angry is a part of human nature- I get angry too- a little angry, so angry and very very angry- name it- I had experienced that LOL But every humans has their way of dealing with anger. So we can say that getting angry is not a sin, but the actions that we do to vent the anger is what is dangerous and sometimes it is when we commit sin. Most of the times when we deal with anger, we need to do things to get even to the person that causes are emotions, and to release the tension we feel about the situation- most of the times we do not think of the possible outcome of the situation. We must try our very best to manage our anger in any way.

• Philippines
3 Mar 08
i think it's not a sin if ur just expressing of what u hav felt ex. if ur angry to a particular person just be honest 2 urself...its more hard to be plastic in facing that person whom u wud like to clear up things...but stil being calm is necessary in dealing with them u know... i stil believe that there's really that power in good communication, cooperation & coordination & i also believe that "Troubles does not mean the absence of God".

• Philippines
29 Feb 08
I think most have said the anger is a normal human emotions especially when there are things not to your expectation happens. I think it could only be bad or a "sin" perhaps when your anger is the one that controls your whole beingness. If your life is full of it and you use anger to represent you as a person. I do believe that we are created being a loving person that is why we should focus more in loving than being angered. But then being angry from time to time is pretty normal for as long as you know you are angry because you are right. For most times that we become angry are the times that we sometime fail to see the other side of the coin. So moderate your anger and I think you will not be sinning at all.

• United States
28 Feb 08
I don't really think that getting angry is a sin....it may be a sin to do certain things whenever you get angry...but again I don't think that it is a sin to get angry because if it were everyone would be a sinner because everyone gets angry every once in awhile...wheater they keep it to themselves or just let it out at everyone..