Yummy~Best Cinnamon Buns Ever!!

Canada
February 28, 2008 8:07pm CST
It's been well over two months since I've visited my favorite bakery. The reason for this is because I've changed my lifestyle and started making better choices with food and exercise. Well last weekend I sort of fell off the wagon and treated myself to some Burger King and since then, I stopped my lifestyle change for a week. I've been so good, and strong willed, till last weekend that is. I stopped at my favorite bakery this morning after a meeting in town, and wanted their cinnamon buns. When I showed up there after my meeting, the buns were still baking in the oven, so I ended up coming home. Later in the afternoon, I went back, and she had them made! I bought six cinnamon buns. They are huge! Covered with cream cheese icing!(The kind of icing you would put on carrot cake) YUMMY!!! They were still warm when I bought them too. As soon as I got home I enjoyed myself to a beautiful warm cinnamon bun. Do you have a favorite bakery you go to? What is your favorite thing to buy as a treat?
2 responses

• United States
29 Feb 08
Its not a bad thing just don't over do it cause I know I love me a coke cola and sometimes I give in and buy a can not the bottle and drink it and when I go out to eat I only have one class of cola and not 2 or 3 like I used to.

• United States
1 Aug 12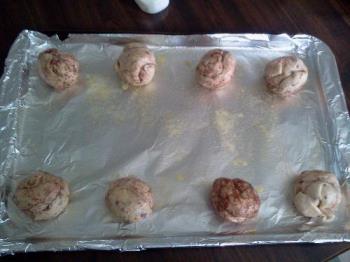 I love cinnabons cinnamon buns. Nothing compares to them. The only place that had a cinnabon resturant was in a local mall. It isnt there any longer and there arent anymore near me so who knows when I will ever get another one. I used to treat myself with one now and then when I was pregnant. They were so filling i could never eat the whole thing but it was so good I sure wanted to try lol. My daughter told me how at vacation bible school recently they made cinnamon buns and put marshmallows inside them. So that is what my daughter and my neice and I just made. I cant wait to try them. I added a photo of them before I put them in the oven.