Motorsport

India
11 responses

• China
30 Oct 06
I love Formula 1! Actually crazy for it

• India
31 Oct 06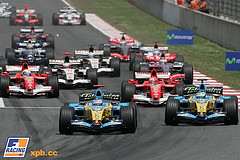 i would say formula 1..the choice is just personal..nothing agianst Nascar..but I would say the speed just raises the excitement.

• India
1 Nov 06
The speed is good but the precission required also adds to tye excitement.

• Indonesia
30 Oct 06
formula 1 is okey,nascar is okey. What is your choice pale?