Dogs eating grass

United States
March 1, 2008 11:26pm CST
Is this something that all dogs do? I notice in the past couple of days when I take my daogs out for a walk or just let them run crazy in the backyard the start eating the grass. I'll call them and all they do is just look at me like I'm crazy and continue to eat the grass that is starting to grow. Is this ok for them to do and is it healthy for them also?! Thank you in advance for your advice, any advice is GOOD advice.
3 responses

• United States
2 Mar 08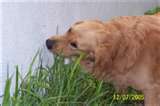 Yes it's perfectly normal for dogs to eat grass. Most of the time it's because they have an upset stomach and the grass helps them to throw up. That's why it's best to leave them outside for a bit longer so they won't puke in your house. Besides, grass has some nutrients that dogs need. Animals are complicated but really interesting creatures.

• United States
2 Mar 08
2 things. First is that dogs tend to eat grass because they aren't feeling well so, you might take them to the vet and see if they are sick. Have you changed their food recently or seen anything that they may have gotten into around the house? 2nd, I wouldn't let them eat your neigbhors grass as you may not know for sure when the last time your neighbors had their lawn treated was and they could be ingesting poison from lawn treatment. So, if they are going to eat grass, only let them eat your grass as long as it has been treated recently. otherwise, it is usually a sign that they aren't feeling well. For some reason grass tends to settle their stomaches or something and eating it is part of their natural survival instincts. So, it is normal in that dogs do indeed do it, but, abnormal because it is usually a sign that they aren't feeling well. I would call my vet if I were you and ask him or her what he or she thinks.

• United States
2 Mar 08
I was always told that when a dog at grass he had a stomach ache and was getting sick. How true that is I really dont know. My dog would eat grass once and awhile and a bit later he would throw up. I never seen it in my other dogs though.