I turn 40 3-3-08 tommorow and i was wondering....

7 responses

•
2 Mar 08
HAPPY BIRTHDAY for tomorrow! Well don't do what I did, they say life begins at 40 and I found out I was pregnant, I laughed, they don't say whose life begins. No I think they only say they to make us feel better about getting older LOL, bit like if you have a bird poop on you they say it lucky, but again just to make you feel better. Have lots of FUN tomorrow Ellie :D

•
2 Mar 08
hahaha whose life? absolutely priceless. No, although i never say never, the chances of me getting pregnant are about the same as if the pope was named father lol blessed be

•
2 Mar 08
Your not 40 til tomorrow and you laughing and having fun already, enjoy. Don't know haow you managed it as a mature content discussion though or is that something else we are supposed to be at 40, mature!LOL so perhaps it wasn't the boobs at all but the 40 that did it. Ha ha Ellie :D


•
2 Mar 08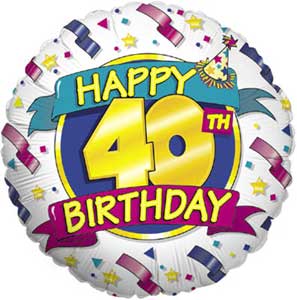 Well firstly let me say happy 40th birthday for tomorrow and hope you have a wonderful day! I turned 40 about 5 months ago and found it very traumatic. I insisted that people buy me birthday cards that read 39.99 as I was so not ready to be 40! But now it's come and gone, I don't much care LOL! You won't be re-entering puberty (thank your lucky stars for that), sadly your breats WON'T stop sagging (LOL) and erm I doubt your belly will shrink either. The one think I've noticed about myself in recent years (though more so since I've turned 40) is I'm more confident as a person and what used to be important in my late teens and throughout my 20s no longer seems to be an issue. People have to accept me for who I am and I don't feel I have to go out of my way to improve others' opinion of me... Oh and I got a new hairdo when I turned 40, my husband said it makes me look 24! LOL He is sweet and he makes me feel like I'm beautiful - it is handy to have a partner in your life who compliments you often:)

•
2 Mar 08
yessssssssss i agree about the confidence anyway but was rather hoping for a new beginning physically, shall i become a born again virgin?

•
2 Mar 08
LOL I don't know about that hun, the only way you can become a born again virgin (I think) is if you haven't done it in so long that you've forgotten how to do it HAHA (I wouldn't wish that on anyone) xx

•
2 Mar 08
hahaha well, not far from it but there is always tonight lol blessed be


• Philippines
2 Mar 08
Wow! Congratulations and advance happy birthday! They say life starts at 40. You are now starting to share a good time. Maybe you are enjoying the comfort of having to walk by the seashore and not needing to worry about too much work as you used to. Having more time to spend on reading and having a good time relaxing or spending them for pleasure. You have spent time for the ones you love, this time they say, it's your time to pamper yourself and take the pleasure you have long worked for. Good luck and enjoy life more! I wish I can reach such age too, strong, sassy, and happy!

•
2 Mar 08
it is a great feeling, i accept myself, i am here on merit and i quite like myself blessed be

• Canada
2 Mar 08
LOL wouldn't that be nice :):):) THat life begins at 40 slogan is somewhat misleading Eskarena lol But I have to say that I enjoyed my 40th birthday:) And I'm enjoying being in my forties. In any case I hope that for you it means all you wanted to be :):):)

• Philippines
3 Mar 08
Hey, first of all Happy Birthday today. many says life begins at 40 and you may have that motto too. I think as longs as you live you will still have an adventure and problems as well. But you know this is the right time to change because you have learned many things for your 40 years here on earth. I suggest you write a book or a blog so as you can that to us and describe what is the feeling of having an age like that.Be happy.

• Philippines
3 Mar 08
It's March 3 on my side of the world... Happy birthday to you my dear friend! Birthdays happen once a year so make the most of it! Don't worry about getting older. Age is just a number, what matters is how young we feel inside and out. Take care!

• United States
3 Mar 08
Have a happy birthday tomorrow! Welcome to the 40's! I am 49 and next year I will be in the 50's age group and I am scared! They tell me I don't look this age and I feel better then! I am concerned about my wrinkles but I know I will get them sooner or later.