Finally a champions innings from scahin!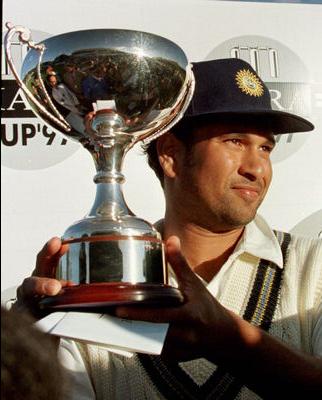 India
March 2, 2008 5:48am CST
This innings from sachin against Australia in the finals for the triangular series 2008 is one that i'll always rate really high. The reason being 1) its was a pressure game 2) Wickets were falling on the other end to add to the pressure 3) He delivered under pressure 4) He remained not out and saw India through. This has happened very few times for sachin. We have always seen a sachin who disappoints us on a big final or a sachin who scores a 100 and india loose . I think this is one of the best if not "the best" one day innings he has ever played. What do u think and where would you rate this innings?
4 responses

• India
12 Apr 08
i really disagre with ur comment. wat happened to the final of sharjah or the final fo the titan cup. there have been many matches more than 20 matches where he scored a hundred and indian won. why do people always look at the bad performances and not the good ones. I can say this hundred to be famos for one reason this was his first hundred in australia other there is nothing unique in this hundred which sachin did not do earlier. he is a campion batsmen and has made many champion innings all the time in his career. may be u have to have look at his career figures.

• India
12 Apr 08
well... if you read my discussion again you would see "This has happened very few times for sachin" that means i didnt say he never delivered on important occasions. I'm his big fan and i have been following his game ever since he hit 4 sixes of Abdul kader, and what i said is what i felt of his performance, nothing less nothing more!

• Pakistan
3 Mar 08
sachin tendulkar, the little master, is a modern legend. he is a class act and every player admires it. 42 ODI hundreds is not a joke. i dunt know y the indian public critizes him much? he almost always delievers for india. for a long time, he has been the sole apearhead of the indian batting line up. inspite of so much youngsters coming, he was the highest run scorer of india in 2007. it shows he still is a run machine. i m very happy that this innings has certainly quiet all his critics.

• India
3 Mar 08
yes he is a class act and no one doubts that, and now though not very flamboyant as before, his innings are a treat to watch. Look at the 2 boundaries he scored by lofting the ball over the keepers head, that is some thing only a genius can do, now that he is coming close to the end of his career lets hope he will produce more match winning innings for India.

• India
2 Mar 08
Hello,earncommunity! the first final of the triangular series today brought glory for India as it defeated the Aussies by six wickets and thanks to Sachin who managed to score an unbeaten 117 which proved that Sachin is really the all time great batsman of the world.at the same time i must appreciate the performance of the youngsters like Ishant Sharma,Parveen Kumar,and Rohit Sharma who did a lot for the victory.thank you.good luck to team India.

• India
2 Mar 08
yes it was complete team effort! and i wish team india all the best for the second final.

• India
3 Mar 08
ya i am very happy that now a days sachins knock does no go in vein!! but it doesnt deserve the so much praise u have shown!! rohit was there at other end supporting him and it was also his fault that gambhir was run out!!!