Chicken Momos served with spicy red chilly sauce was my lunch today!!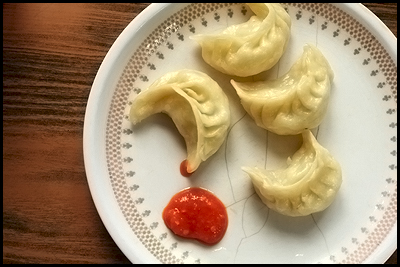 India
March 2, 2008 1:16pm CST
Since last week i was having this uncontrollable urge to eat steamed chicken momos, but due to my busy schedule i couldnt manage to take out time to go n have them. Today finally i managed to savour the feast. the chillies do make me sweat badly, but that uncomfort is nothing as compared to the wonderful taste of chicken inside it! :) How many of you like chicken momos so much that the craving gets uncontrollable? I am sure its not with all of us.. just a few good men (or women) feel it.. hehehe Share your thoughts! :)
1 response

• United States
2 Mar 08
Ok, no fair! You posted on my discussion about cravings and said you were craving Chicken Momos and had started a discussion about them. Not knowing what they were, I said I'd pop on over here to read your discussion. I still don't know what they are - no fair! :)

• India
3 Mar 08
LOL... i am extremely sorry about that! I just read your post over there.. i m posting a link for you to see what momos are.. and how r they prepared.. it will give a fairly good idea to you :) http://www.opensourcefood.com/people/lex/recipes/steamed-chicken-momos i hope this helps.. and thanks for responding here! :)

• United States
3 Mar 08
Ok, they're like little dumpling things. Looks good!