When going to a buffet what do you tip?

United States
March 2, 2008 2:00pm CST
When I go to a restaurant I tip according to how well the service was, the cleanliness and the ambiance of the restaurant. When I go to a buffet (VERY inoften) I have to get my own food, put up with hordes of people and in my opinion sub-par food. The only thing my 'waitress' does is get me another water and take away my dishes. I usually tip~10% when I am there and wondered if that is fair.? Should I tip more or less?Thanks Zelo
9 responses

• United States
2 Mar 08
I think the amount you stated is fine, unless for some reason you end up receiving splendid out of the ordinary service. I mean most times, it makes no sence to tip, because the service is limited and you do most of the work..

• United States
2 Mar 08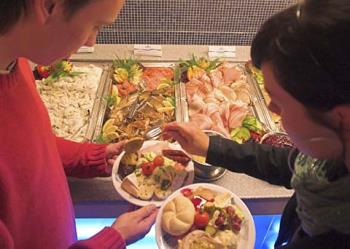 If I ever go to buffet, I never tip more than $2... I don't drink water in restaurant and only order one tea if I eat in buffet. $2 for delivery one cup of tea and clean my dishes (one plate) is more than enough. I am not type of person to eat in buffet anyway.

• United States
2 Mar 08
There is one of those "all you can eat" joints really near our house that I used to frequent ALOT. In the early days we got friendly with some of the staff and so we felt comfortable asking questions. Now, they do bring more plates, and fresh rolls & fill glasses. I asked if they thought a dollar per person was fair, and they did. Now, that was quite some time ago, but the prices haven't gone up a lot so I think that would probably still be a good tip.

• United Kingdom
2 Mar 08
10% is very fair, that is the normal tip for restaurants in the UK my friend, especially for a buffet where all the food you get you help yourself too! It also depends on the waiter/waitress, I know they work hard but sometimes they need to work hard on their customer service too, just a smile is enough but when some tut because you can't make up your mind what to drink or are brash and unfeeling then a tip is pushing it too far!

• United States
3 Mar 08
We usually tip depending on how friendly the waitress is, how often she comes by to ask us if we need anything, and several other factors. 10 percent is very generous, especially in a buffet restaurant. That's where we go most of the time because it is more cost effective and everyone gets full, plus there is a variety for the picky eaters in our family.

• Canada
3 Mar 08
When we go to a restaurant, my husband usually tips fifteen percent, but then we like getting waited on. I have no idea what to tip for a buffet because there is usually a place on the tab, but I suppose it would be ten percent because you do serve yourself. I think those working at preparing the food need some extra money as well, because when my sons were working at Perkins's the tips were supposed to be divided up between the waiters and the cook and cook helpers, but if there were coins under the flower vase, or the plate, they went to the waiter and the cooks at the back did not get any. Now the restaurants are putting a section for the tip on the bill and that means that everyone shares.

•
3 Mar 08
I cannot give you suggestion,the custom in every country is different,I didn't give any tips to the waitress,because there is not used to in China. In china,if you are the waitress in the buffet,you have the duty to the good cleanliness and have good manners to the customers.You know the customer is the god. If you have the chance to go to China,you can be says thanks to the service man instead of tips.

• India
3 Mar 08
We have the habit of giving tip whether it be a la carta meal or buffet. nowadays we generally take buffet. But still we tip. in the restaurant that we go for this meal , has a lavish buffet. the waiters serve soups, bread, water at table. they also take away dishes when they are messy.so we pay tips.

• United States
2 Mar 08
We usually tip $5.00 for the four of us. It doesn't matter if it the Golden Buffet (chinese) or Golden Corral. We have only been going to buffets since Bob is such a big eater and my kids aren't the buffet is the best way to go for us.