Question About Animal Shelters

United States
March 4, 2008 5:41pm CST
If I went to an animal shelter to rescue either a cat or dog (or both, who knows! :) ), I was wondering...would they allow me to bring my cat to their facility to see if she gets along with the other animals? My cat is very good, with dogs and cats. And it would really help me see first hand that the 2 animals would get along with eachother. Would the shelter let me do this, in any way, or would it be a big no? *Everyones opinions are wanted/appreictaed-but if anyone works at a shelter, or has worked at a shelter, it could be really helpful to hear your knowledge!
3 responses

• United States
4 Mar 08
I know that where I live I had a cat when I got my first dog the shelter didn't let me bring the dog home to the cats environment , but they gave me a bunch of really good tips that helped make the transition easier for both pets. The most important thing to do and I know this works because my best friends just had a baby. If you take a blanket or towel to the shelter with you and you found the pet you want to adopt you hold the animal in the towel or blanket to get the new scent on it..then take that blanket or towel home and just lay it on the floor for the cat to smell and get used to the scent. It doesn't take all the anxiety out of bring a new animal into their envirnment but at least it makes it easier. My friends that had the baby had these cats for like 15 years and the transition went pretty smooth when they brought their daughter home. As for me, I did this before I brought the new pupp yin the house. The cat wasn't thrilled and stayed either away from the dog or would torment him when he still had to be kenneld at night. But now 2 years later they're the best of friends. Hope this helps a little.~D

• United States
5 Mar 08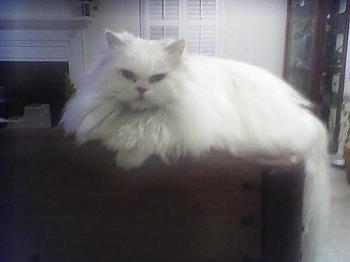 Well I don't worry about my cat getting used to a new dog I'll bring into the house. She has already proved that she can adapt to new pets really well. I just really want to bring my cat in to see how the dog will react to her. And I won't trust it 100% if I only bring a blanket with her scent on it. I want to see how their personalitys clash. And I'm not worried about bringing my cat to the shelter. She is REALLY good with strange animals and people in public places. When I take her to the vet she sits right in my lap, and always has dogs coing up and sniffing her face and kind of nudging her with their noses lol. She just sits there and lets them. All the dogs owners are always surprised! =P And she just sits on my arm when I take her to PetSmart, and a ton of little kids (and adults) always want to pet her, because she is a very pretty, very sweet cat. So I don't think a shleter will be any different from any of that. I just don't know how the shleter will feel about it, if they don't really know the cat. *Here's a picture of my kitty!* =D

• United States
5 Mar 08
Well I haven't actually picked a dog out yet. I'm just talking about the future, when I do go. But I am planning on getting an older dogs. Puppies always get adopted, I don't worry about them. But I know older dogs are adopted a lot less.

• United States
5 Mar 08
At our local PetSmart, we have the St. John's Ferral Fund and Franklin Humane Society area with cats to be adopted. They usually will let any family member meet new family members, but if there is a cat that is terrified of dogs, then they might restrict a dog from being in that small confined place with the cats. But another cat, as long as its shots are up to date, they probably would let it. Now the Humane Society, I would call first. They have so many cats and dogs running around inside their facility that who knows what more they may or may not allow. Actually I would call anyone before I went and tell them what I was planning to do. Each shelter and rescue group has their own rules. They vary so much from one to the other, that a person can't really speak for them.

• United States
5 Mar 08
By the Humane Society, I meant the Adirondack Humane Society, they have a really large building compared to the small area located in the back corner of PetSmart. Some places, I've heard, allow you to take a pet home for a few days and see how the animals get along. If they don't get along, they let you bring the cat or dog back.

• United States
5 Mar 08
Yeah the PetSmart I work at his an area with adoptable cats, but dogs only come once a week, I think. But some people at my work (in the hotel) defeniatly know how good my cat is, but the people at the adoption area might not know her as well. I wll defeniatly try to get in contact with any shelter I plan on visiting :) I've never heard of the Adirondack Humane Society, it's differnet than the Humaine Society? Thanks! :)

• United States
9 Mar 08
Some do, some don't. Do NOT expect your cat to get along with another cat without some introduction time. And really not with a dog either. The best thing you could expect is to see how the dog would react to a cat. You want to be sure you get a dog and cat that are social with other animals. Since your cat lives with your folks pets already, you know that already.

• United States
9 Mar 08
My cat didn't need any introduction time with out last rescue dog. She slaps the dog if she gets in her face (lol) but she never does it with her nails out, and the dog backs off (or tries to play! =P) But I defeniatly want to make sure they meet eachother before I make a final desicion to bring a dog home.