Do you agree with wearing animal fur?

United States
7 responses

• Canada
5 Mar 08
if we lived in a place where we used all parts of the animal for everything then now, but as long as there is cloth to make coats, I am against it. minks are bred just to be killed for fur and that is wrong as far as I am concerned.

• India
5 Mar 08
I don't feel too bad about wearing leather; really not much of a difference. Leathe ris the best protection when riding a motorcycle or sparring, really they haven't come close for arbrasion protection unless you want chain mail, and thats far less comfortable. I don't feel too bad about rabbit fur, either. I think I draw the line where the animal is being used exclusively for its skin and not food as well. PETA has completely discredited itself, I want nothing to do with them. If another group is out there pushing for reasonable and humane legislation in the treatment of creatures, I might support them, but PETA gets not a cent from me.

• United States
5 Mar 08
Right, I feel the difference w/ leathers is that they are from animals that will be consumed for other purposes as well. I go so far as to take up freezer space for bones to give my dogs. It's good for the dogs and it's also using the entire cow. I have a friend who raise goats and uses the skins for drums and eats the meat. At least the whole animal is used. I agree that PETA has gone too far and that they should come down to earth before they get another cent. The HSUS has gone a bit far too, and they get government grants! Scary stuff!


• United States
5 Mar 08
I tend to agree with you there. That for many it is just a fashion statement or a way of displaying their wealth. I think Vintage furs are okay and should be recycled instead of killing off more animals for fashion. I love vintage items redesigned to something modern.

• United States
5 Mar 08
There is only 1 time it is ok to wear animal skin and that is i you are living in the wilderness and that is the only way you can make your clothes. PLus that means that you are utilizing the carcus for food to survive. Other than that I dont see a need for it. We have so many other options for clothing today why kill an innocent animal just for its fur.

• United States
5 Mar 08
I tend to agree. I live in a state where people hunt for their food to survive the winter. They use the skins of deer to make gloves and slippers and they also freeze and eat the meat. I agree that if an animal is killed for human survival it darn well all be used up. I am part Native American and this was stressed by our ancestors as well.

• United States
8 Mar 08
No I do not feel it is okay to wear real fur. Nobody will ever see me wear real or fake furs.

• United States
8 Mar 08
I think it is wrong to not use animal skins and fur if the animal is being used for meat anyhow... why waste the leather and fur? if the animal is being killed for the sole purpose of its hide then I think it is terribly wrong. certain animal furs/hairs can be used with out injuring the creature - such as sheering the wool from camels, sheep, llama, alpaca or spinning dog hair or angora rabbit hair or mohair goats

• United States
6 Mar 08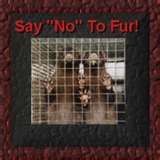 ABSOLUTLY NOT. It belongs on the animal not us humans. If we were meant to have fur then we'd have been born with it. Wearing fur is saying it's okay to kill an animal. I love animals and believe they have every right to live just as much as we have a right to live and in freedom.