Top Friends?!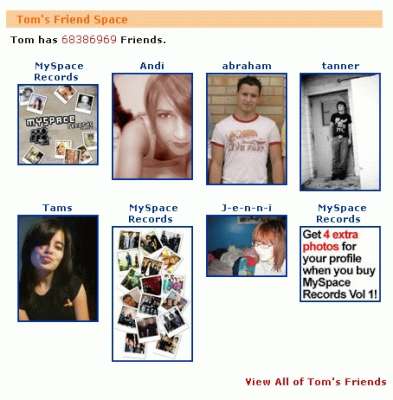 March 5, 2008 4:34am CST
as a myspace/facebook user, on what baises do you organise your top friends? Do you add them up by their activites towards your own profile or by their dearness to you? Im a little confused to when it comes to this. Also do you change them frequently and do your friends get annoyed if they were on your top list anymore?
1 response

• Saudi Arabia
9 Mar 08
Hi there... As a facebook user I didn't add the top friends application for so many reasons.. 1- I don't want any of my friends to get annoyed/offended if he/she is not my number one or in the top 5 2- I don't want to get busy organizing my friends on the top friends -if they are my top friends they will know from my participation on their profiles, comments on their pictures and PMs I send to them-... etc. And if I decided to add the application I will definitely arrange them based on their dearness, and will not change it because a dear today is a dear tomorrow...