DoYou Believe This?

United States
March 6, 2008 3:31am CST
Does this following article change your beliefs? Does it shake your faith? Moses was high on drugs: Israeli researcher Tue Mar 4, 7:02 AM ET JERUSALEM (AFP) - High on Mount Sinai, Moses was on psychedelic drugs when he heard God deliver the Ten Commandments, an Israeli researcher claimed in a study published this week. Such mind-altering substances formed an integral part of the religious rites of Israelites in biblical times, Benny Shanon, a professor of cognitive psychology at the Hebrew University of Jerusalem wrote in the Time and Mind journal of philosophy. "As far Moses on Mount Sinai is concerned, it was either a supernatural cosmic event, which I don't believe, or a legend, which I don't believe either, or finally, and this is very probable, an event that joined Moses and the people of Israel under the effect of narcotics," Shanon told Israeli public radio on Tuesday. Moses was probably also on drugs when he saw the "burning bush," suggested Shanon, who said he himself has dabbled with such substances. "The Bible says people see sounds, and that is a clasic phenomenon," he said citing the example of religious ceremonies in the Amazon in which drugs are used that induce people to "see music." He mentioned his own experience when he used ayahuasca, a powerful psychotropic plant, during a religious ceremony in Brazil's Amazon forest in 1991. "I experienced visions that had spiritual-religious connotations," Shanon said. He said the psychedelic effects of ayahuasca were comparable to those produced by concoctions based on bark of the acacia tree, that is frequently mentioned in the Bible. http://news.yahoo.com/s/afp/20080304/od_afp/israelreligionoffbeat
11 responses

• United States
6 Mar 08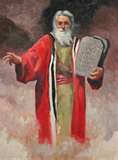 Oh geeze... What's new? Another bible debate or another bible smashing. I don't care what these people believe. I know what I believe and that's all that matters in the eyes of God. I'm going to Heaven and that's that.

• United States
6 Mar 08
Me too! I'll see your there.


• India
6 Mar 08
This story falls into one category with Dan Brown's Da Vinci Code, discovery of the Tomb of Jesus by James Cameroon etc.When we read the life story of Moses from Genesis to Deuteronomy and in the wider context of the entire Bible,this cannot be true of Moses.People can speculate and put up crazy ideas and we can't stop them from saying things the way they want.Anyone can bring far fetched things and try to connect them and cook up a story.Many times,it's a ticket to fame!...


• Anderson, Indiana
12 Mar 08
Boy Howdy!!! That guy must be really desperate to discredit God, The Bible, etc. to come up with something this ridiculous and far-fetched! Why is it so hard for him to believe Scripture yet so easy to believe a bunch of bull like this!?!

• India
12 Mar 08
Thats so ridiculous...some ppl just say what ever they want to say in the name of research and add up their own facts and fictions to it...I believe nothing but the bible and so i do not belive in any thing any 1 speaks of his own mind......

• South Africa
13 Apr 08
you see thes end days a lot of people are beginning to have their minds twisted becaus eo f lack of understanding and unfortunately they go out to tell people their stupid findings,this has no effect on what i believe ,its his stupid opinion but what your opinion is ,is what God is interested in.


• United States
7 Mar 08
Everyone and their brother wants to do what they can to continue destroying religious beliefs. No matter what one can do they will come up with some scheme to "curse" the greatest story ever told. I do not believe anything about what is being said by Shanon. No Jew or Christian should sit back and read into such gobbleygook for a lack of a better word. I look at it this way, everyone has their opinion and is entitled to it, but do not give one at other people's expense. This is what I believe such a person is doing. I think there are those who are looking for their 15 minutes of fame and this is what I believe Shanon is doing. Never heard of him and for his belief's do not want to know him. Thanks for sharing.

• Philippines
7 Mar 08
It doesn't matter what they found is it moses that I praise but it's God moses is like us ordinary people who also commit mistakes. Many of researcher found about somethings is their job like for example about Jesus and Mary Magdalene in DA Vinci code. I watch it and even read the book about it but my faith to him does not affected even a little. Were all people we commit mistake in our like the important thing is you repent it and ask forgiveness to the God above all us. If they have evidence and prove all their accusation to moses then let it be it's already done and we could not do any thing about it. It's not moses that I praise it's God the Father. Moses is just like us follower of God. How about you if you prove that it's really true would your faith to God get affected to what they discover?

• Romania
6 Mar 08
I think that could be true. We shouldn't take the bible literally. I think that it contains a lot of hidden secrets. We should read it between the lines and check out other sources, too.