Piphy's Verbal Smackdown of Carly!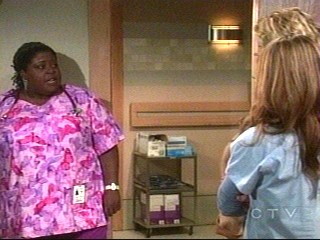 Canada
March 6, 2008 7:35pm CST
Who was cheering for Pip? Be honest. However, I'd really love to see Liz stand up to Carly once and for all, if she plans on being with Jason and not let Carly walk all over her... Pip's Exact words: (Go Pip!!!) Epiphany: I need you on 10. (talking to Elizabeth) Carly: We're not done yet. Epiphany: I said I needed Nurse Webber. (Carly turns to Epiphany) You will get out of her way and let her do her job. Carly: You don't need to be pushy. Epiphany: I said I needed Nurse Webber on the 10th floor. You will get out of her way or heart attack or not I will turn you upside down and mop the floor with your hair. (Elizabeth sneaks a glance at Carly) Elizabeth: Thank you, Epiphany. I am on my way. (Epiphany leaves. Elizabeth turns to Carly) Jason is going to come out of surgery needing to take care of himself, not you. So, whatever drama you have going on this week take it to somebody else...like maybe your husband? (Elizabeth leaves. Carly has some side pain)
3 responses

• United States
7 Mar 08
Gotta love it!! Someone has to put Carly in her place. She walks all over everyone. On the other hand Epiphany's strength and resolve is her best and worst asset. I am so on her side! She is woman hear her roar!

• United States
7 Mar 08
And it is refreshing to see a woman of, how shall I say it..less wealthy status...standing up to one of the higher wealth status airheads! I hope they do more with Piphy. I am tired of all the hotsey-totsey, wealthy, "socially inclined" characters - seems to be all they have these days. I'd like to see storylines with characters like Piphy and Joe (the bomb guy) and some "average like me" characters.

• United States
7 Mar 08
Yup, I agree. I have noticed over the years that all soaps seem to have a large number of wealthy people who never seem to go anywhere. They also have a fair share of working wealthy who never seem to actually work. Then of course there are always the mansions which dont seem to have any locked doors. LOL!

• United States
7 Mar 08
All I have to say is... Go Piphy!!! I can't stand Carly and her hlier-than-thou attitude toward Everyone, especially Elizabeth who has never done anything to Carly. I like it when Carly is put in her place.

• United States
7 Mar 08
I saw that! And was going to post about it too! That was so cool! I was all but clapping for Piphy! That look on Carleys face was priceless and boy did she deserve it! I like Carly but sometimes it is necessary to let her know she isn't the queen of the city! that was a good smack down!