Jax and Sonny - did you catch it?

United States
March 6, 2008 8:33pm CST
Okay Laisonliz (if I hae that right) mentioned about the Piphy vs. Carly smack down - how great that was! BUT..... Did you catch the one between Sonny and Jax! I was cheering Jax! He visited Kate, and then went to leave and gave her a little peck on the cheek as Sonny walks in. He gives his arrogant self-righteous comment about what's going on. Jax gives a good comment to Sonny about Kate, walks out and Sonny follows and Jax just puts him smackdown in his place! Just a few smart, intelligent and appropriate comments, and then walks away...leaving Sonny with his mouth on the floor! Good going Jax!
3 responses

• Canada
7 Mar 08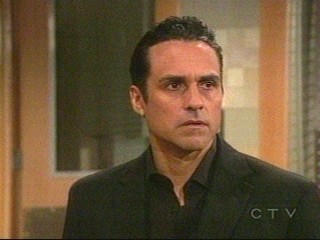 Yep, I caught that. Good for Jax. He is learning how to play Sonny's games! The look of perpleexment seems to be a new one for Sonny and it should only get worse for him from hear on in....

• United States
7 Mar 08
I loved your screen cap picture! That is great! And "perplexment"... the perfect word for it! He is starting to see that he doesn't intimidate people anymore (even Johnny is standing up to him and he is a captive audience!) and maybe even seeing that people are starting to treat him like he treats others and thinking... okay, well, probably not thinking at all! But I love it when he gets "his due"!

• Canada
7 Mar 08
Sonny is probably catching on that he is starting to rub people the wrong way, that's why he had that jaw drop.

• United States
7 Mar 08
I'd say the other way around! he is stunned that people are no longer intimidated by him anymore! Which ever, glad it happened!

• United States
7 Mar 08
YES good for Jaxs, Sonny has walked around way to cocky, almost to cocky that I can not even stand him on the show anymore. Lord behold. I can't believe I am saying that. Always loved him, don't get me wrong he has always been the I am going to have it my way kinda guy, But he did at least show respect. Maybe never to jaxs. But to others. Now he just makes me sick!

• United States
7 Mar 08
yeah, they kind of let that character do a mud slide and he missed the mud! i have never really "liked" the Sonny character, but he was okay and atl east had some good storlines about him. This past year tho, boy, what a let down. I just don't get it - his son is missing yet all he does is sit with kate and an occassional visit to Johnny! He isn't to concerned to find his son! They sure have slighted this storyline! jax is the only one doing anything!