What HARRY POTTER items you collect?

Singapore
11 responses

• Philippines
3 Apr 08
i am obsessed with harry potter..i collect all harry potter stuffs..i have the books, the cds of course.. i also love the action figures.. my room's walls are covered with harry potter posters.. i also have those harry potter shirts and bags.. and of course my things is sticked with harry potter stickers..

• Singapore
3 Apr 08
wow... you're harry potter mania... ahahah... thx for sharing!

• Philippines
7 Aug 08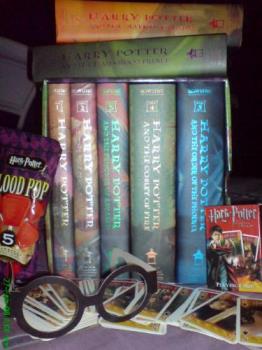 Aside from the 7 books, I also have the 4th and 5th movie posters and I have The Goblet of Fire playing cards. I also have Harry's eyeglasses (made of cardboard), and I once bought Harry's Blood Pop which tastes really good! (too bad, cant get any of those anymore.. out of stock)

•
30 May 08
[b][u] well i not collected any part of the harry potter but i have its all books and the movie released i think my collection is enough...

• United States
6 Apr 08
The only thing I have collected for myself are the books. For my daughter that is a totally different story. She is only 3 years old but loves Harry Potter. She watches the movies and has me read to her from the books. She also a great pop-up of Harry Potter and the Sorcers Stone that she enjoys. She is constantly have me go onto Ebay with her to bid on the Harry Potter Lego toys. She loves building and playing with the sets.

• China
3 Apr 08
i have see the mioves for some time,but never buy a book,because the book is too expensive for me,and some time i can not understand the word

• United States
10 Mar 08
I absolutely love the jellybeans, I have fun trying out all of the weird flavors.


• United States
9 Mar 08
The only Harry Potter items I collect are the books and the movies. I try to buy them the day they come out. The only other thing I buy is the Bertie Bott's Every Flavor Jellybeans whenever I see them, but I don't collect them.


• Indonesia
9 Mar 08
well, i am a really harry potter collector so definetelly i have the complete book from the first chapter until the last chapter :P i like the story and i also like to watch the movie of harry postter too. although sometimes, the movie not too good as like written in its books :)

• Palatka, Florida
9 Mar 08
I have all 7 books of the Harry Potter series and all 5 of the movies myself.