sibling rivalry

India
March 10, 2008 5:18am CST
I saw in many families, always the younger one is more demanding for everything and the elder one is almost forced to adjust or get compromised with the second one which i feel is terribly bad. It's impact is on the emotional side of the elder one more and also on both to some extent.Am I correct or not?
6 responses


• Singapore
10 Mar 08
You are absolutely correct. I have 7 children and I find it extremely difficult to be fair and just. As you have mentioned above, the younger ones are always demanding and unreasonable. Lucky for me, my elder ones are patient and willing to give and take. However, nobody is perfect. They are bound to blow their top once in a while, as they have did a couple of times. So, I will reason, talk and even punish the younger ones if need to. Hopefully, the elder brother and sisters will continue to set a good example for the younger siblings to follow.

• India
11 Mar 08
I do not think so...and this is based on my personal experience. We are two sisters and we didn't have any sibling rivalry (even though we did have to share a lot of things). If ever there was an argument, my father always heard both sides and came up with a just punishment or verdict. My sister was never favoured over me (we are 7 years apart). I have two kids who are 6 years apart....and even though the younger one is too young to have any rivalry....I have not seen it in my older one. He always understands....and copromises on his own without me having to ask him (I would never do it). I think it depends on how the parents see it....if they feel the older one has to compromise because they are older...then the elder one does resent it....and the younger one will always get their way...whether it is right or wrong.


• India
20 Mar 08
I think you are misunderstanding me. By reading your responses or discussions, I liked your personality and thought I could soothe myself from an intellectual friend like you and have no intention to disturb your life in anyway. It's all just about having a second opinion or suggestion from a friend to satisfy myself whether I'm doing write or wrong. Thankyou anyway.

• India
19 Mar 08
May be I feel guilty at times for their present state and am trying to do some damage control. One more thing I like to ask you is that after reading all your discussions and responses, I felt like you are the right friend to guide me emotionally and so can I be in touch with you and share my feelings of any kind and seek your help. I hope you can allow me to take you in confidence in personal matters and like to have your email id only if you are willing to accept me as your friend. Till now, I really don't have good friends in my life to this extent.



• United States
19 Mar 08
I am an older child and I do know how that feels. It is extremely hard as an older child. The younger child is always wanting the attention and requires more care leaving the older child to feel less loved and less interesting. I always competed with my brother for the attention of my parents. I actually disliked my brother greatly as a child. We are very close now as adults but sometimes I still feel that sting of jealousy to this day.

• United States
10 Mar 08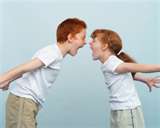 You are right for the most part. I say that because not everybody treats the younger ones as the special one and leave the older one's out, thank God. My parents didn't do that with me or my two brothers but I've seen a lot of that happening with people I knew and I've taken up for the older one and got knocked down verbally because of it. It's not right that the older ones get pushed to the side for any reason because they're just as important as the younger ones are and they need to know it and feel it too. It's a sad shame when it happens and I won't stand for it.