March 12! My daughters birthday!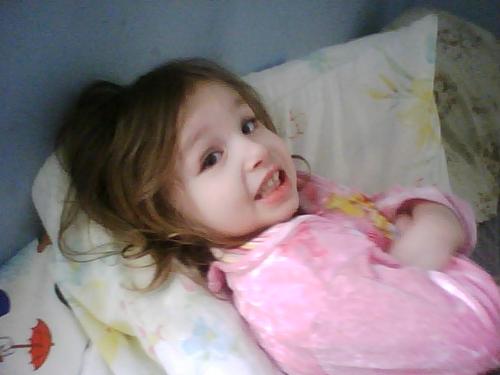 United States
March 12, 2008 11:30am CST
So today is my daughter, Haylie's, 4th birthday! Im so excited. We are taking her to Chuck E Cheese and out to dinner of her choice. I think she is going to choose Chinese, which I love so I wont complain. Then Saturday we are having a Birthday Party for her. Plan to have a cookout. I hope its nice outside but it probably wont be so were all gonna be stuck inside. Oh well as long as she has fun it dont matter. My sister got her a nice kitchen. I know she is going to love it. And we also got her a new bike that she wanted so bad. Anyone else have a childs birthday today? Or coming up soon? What do you plan to do for it?
5 responses


• United States
16 Mar 08
Want to hear something fun? My daughter will be 3 on March 16th..her name is hailey

We are having a small party for her on her birthday. I think next year we'll do her birthday party at Chuck E. Cheese too. We did our oldest daughters party there 2 years ago. It was really nice and so much easier.

• United States
18 Mar 08
Thanks :) I had her party on Sat. My sisters stepdaughters bday was the 16th as well. We took her to CEC for her to have a little fun but we didnt have an actual party there. I checked into it but its super expensive for very little. Here they used to give out cake, a balloon and a soda on their bday but they dont know. I was so mad cause I thought she would get something like that and they changed it. But she still had fun. Anyways, Happy Birthday to your daughter as well.

• United States
12 Mar 08
Happy Birthday Haylie! Sounds like you have a lot of fun planned for her. My son had his 5th birthday on Friday (the 7th) and we're supposed to be taking him to Chuck E Cheese. Originally we were going on Sunday but then it got changed to today...and i can't say for sure if we are going today or not.

• United States
12 Mar 08
Happy Birthday for him too :) They grow up so fast!

• Pakistan
15 Mar 08
Many Many happy birth day to ur daughter and i think she must be so cute as u are. and i know u are so excitred anbd u must be. u ahve to take care of her wish all the time and especially at this special day. and dont forget me while eatiung chinese because i also love it . Muhammad Atif atifshahzad1
@yahoo
.com

• Philippines
13 Mar 08
hi steffy!

happy bithday to your daughter! i remembered the tv show One Tree Hill because one of the characters there is also named Haylie.

my little nephew's birthday was on January and his sister's birthday is on October so there aren't any birthday plans yet for any kids at our house. the next one to have a birthday in our family is me and all i can think about is giving myself a tour gift at Singapore or Hongkong.