I absolutely LOVE the new CoffeeMate Creme Brulee flavored creamer!

United States
March 12, 2008 3:16pm CST
Has anyone else tried this new flavor by CoffeeMate called Creme Brulee? It is sooo good. I was using Hazelnut but I figured last week that I'd try the Creme Brulee for a change to see if it was any good. I am now soooo addicted to it. It smells wonderful too. Do you use coffee creamer in your coffee? Powdered or liquid & what is your favorite flavor? If you like the flavored ones you should really try the Creme Brulee!
7 responses


• United States
21 May 08
Oooo, I will have to try the Southern Pecan. I have never had that one before. Is it made by Coffee Mate or International Delight or some other brand of coffee creamer? I have never heard of the black cherry streusel though. Who makes that one?! I drink my own homemade iced coffee now several times a day... it keeps me going, plus helps if I'm wanting to snack on something throughout the day but don't want to have a ton of fat & calories. Be sure to let me know what brand those are as I'd really like to give them a try. I have seen quite a few new flavors lately by both Coffee Mate & International Delight as well. Some of them sound kinda good while others sound kinda gross! LoL

• United States
21 May 08
It may be International Delight that makes Southern Pecan. I think tha Coffee mate makes a similar one if I'm not mistaken. The black cherry streusel is Coffeemate but it is a "special edition" according to the label so I don't know how long they will have it or if its available everywhere.

• United States
12 Mar 08
I have to have coffee creamer in my coffee. Coffee Mate is my favorite brand to all that I buy. It has to liquid I hate that power stuff. My favorite flavors are: Amaretto French Vanilla I have been wanting to try the Creme Brulee. The next time I go to the store I will have to get me some.

• United States
12 Mar 08
I did get the Amaretto a few weeks ago & I really liked that one too! I used to like french vanilla but I don't any more... not sure why. I do like french vanilla ice cream though! :) The Creme Brulee is definitely worth trying... it is one of my all time favorites now! YUM! I have found that I like the CoffeeMate brand the most so far too. Our grocery store does carry a brand called Lucerne that is very good too, & much cheaper so when I buy the hazelnut for the husband we almost always buy that brand. They also make a lot of other dairy products like cheese and milk, etc. I recently got a coupon in the mail for FREE CoffeeMate creamer. Check out their website they might still have the promotion going on!

• United States
13 Mar 08
Thanks, I went and checked out there site. I signed up with them to get coupouns now. Plus, they are sending me a free thing of creamer!

• United States
15 Mar 08
omgosh, i will have to try that. that sounds so yummy. i was just telling my hubby i wanted a cup of coffee, i smelled it all of a sudden from somewhere, now i'm craving it, THEN i read THIS and WANT THIS added!! LOL YUMMERS!!!!!!! i like the hazelnut as well, french vanilaa always classic, i've tried so many different kinds. like when they have ones out for the holidays. i buy the dry stuff then it lasts longer for me. but the liquid is the most yummy!!

• United States
16 Mar 08
LoL frecklelip! So far the Creme Brulee is definitely my favorite kind. The other day I bought myself some Irish Cream by International Delight & at first it was ok while sipping it, but I didn't like the after-taste AT ALL! Ewwww! To me it kinda tasted like a slight hint of whiskey & I absolutely hate the taste of whiskey! However, today I bought myself some Vanilla Carmel by Lucerne, because it was on sale, & I just had a cup of iced coffee with it & I think it is on my top of favorites so far. :) My mom is a big french vanilla (dry creamer) lover... I used to like it a lot but I guess I got burned out on that flavor creamer & don't like it too much anymore (except the smell of it - it smells heavenly!).

• United States
21 Mar 08
ha thanks for the best response, and have to say i am STILL craving a great cup o' coffee now!! haha!!


• United States
12 Mar 08
My husband likes the hazelnut the best too. I like it but was looking for a change. I have never tried mocha mint before. Is it by CoffeeMate or another brand? That sounds kinda good too. I have been craving something minty lately. My husband was buying some ice cream sandwiches when we were in the grocery store the other day & I tried to talk him into getting the mint chip ones, but he doesn't like that kind. I used to absolutely love mint chocolate chip ice cream when I was a kid. You should give the creme brulee a try. I wish they had it in the fat free though.

• United States
15 Mar 08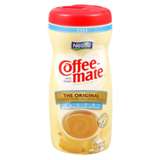 I love creamer in my coffee too however I don't like anything flavored. A friend of mine got me to try one and I about gagged. lol I like the regular kind and no other but that's just me. Enjoy your coffee!

• United States
16 Mar 08
I didn't used to like the flavored coffee creamers either CatsandDogs! I dunno why all of a sudden I do so much. I guess after trying it several times it just grew on me... now I can't get enough - LoL! I mainly drink iced coffee that I make myself... just brew up a pot, let it cool then store it in a container in the frig. When I want one (which is several times a day - it helps curb my appetite too) I just pour some from the frig over ice & my favorite flavored creamer. YUM!

• United States
12 Mar 08
I have tried all the CoffeeMate and International flavors but I always go back to the CoffeeMate Hazelnut and French Vanilla they are most definitely my favorites.


• United States
17 Mar 08
Yes whiteheather39... the CoffeeMate brand is definitely one of my favorite brands too. I am not too keen on the International Delight so far. A friend of mine said she bought their french vanilla and didn't like it at all, but she always buys the CoffeeMate brand of the french vanilla & loves it! My mom is a big french vanilla creamer lover in the dry & my husband loves the hazelnut liquid creamer the best. We often buy the Lucerne brand here in northern California as it tastes very good & is much cheaper. But, of course, they don't have the variety of flavors like CoffeeMate does.

• United States
17 Mar 08
I don't usually drink coffee unless I'm out for breakfast somewhere, but that sure does sound good. I have an online friend that makes her own soy candles and she has loads of scrumptious flavors. I've bought several from her but my absolute favorite is the creme brulee. The house smells absolutely divine when I burn that one!