What YOU NAMED YOUR CATS? DOES IT HAS A MEANING?

Singapore
7 responses

• United States
15 Mar 08
I dont think its necessary to name a cat since they dont listen to you if you call them by your name unlike dogs. But I did have a cat a while ago but it decided to go live with the neighbours lol.

• United States
15 Mar 08
All of my cats answer to their names. If I tell my cat to come here, she will listen. If you say her name real low, she will respond with a meow. So yeah, some do listen.


• Singapore
24 Mar 08
Joan? its my friend's name. How could? Hahah.. do you treat them also like human? lol. Ok. Why dont you have any pet anymore? Your family doesnt like it?


• Indonesia
16 Mar 08
pay-pay is cute, manya_pearl! my cats name is lee, i pick the name because he is a boy and its simple. every body asking; "Then, what his long name?" and i respond, Lee cooper, sometimes Brandon lee cooper, sometimes lee kum kee (a ketchup brand name) lol. naah,.. i just want to call him lee. For me it's seems a name for a fighter! and he is. He is having a fight with my bosses dog sometimes. They just playing like wrestling. They look cute, and lee look very brave and serious.lol

• United States
15 Mar 08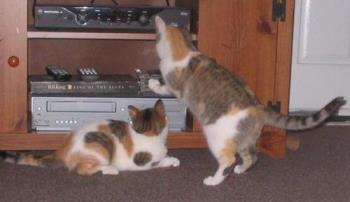 My kittens wandered into my yard as strays a couple of months ago when they weren't much past weaning. You could tell they were sisters from the same litter, so I had to come up with names that worked for both of them. I ended up calling them Laverne and Shirley from the old television show.

• United States
15 Mar 08
I have 4 cats. Meeca is the oldest and she was named because my mom liked the name Mischa and I liked Micah, so we settled in the middle calling her Meeca. Then we had Nemo. I named him because Finding Nemo was popular at that time and we found this cute little cat. The third cat was named Dory because Nemo and Dory go together. The first cat was named Itty Bitty because she was so small. That about sums it up. Your cat sounds cute. I like that name.

• United States
24 Mar 08
I named one of my cats Simba for the obvious reason that he looks just like Simba off The Lion King. I named my other two Ty and Cally because one is a Tiger and the other, a CAlico and we wanted to give them semi-matching names because they are sisters.