Are sphynx cats attractive to you?

United States
March 15, 2008 7:42pm CST
I have heard a lot of ppl say these cats are ugly i am considering getting one in the future so,what do you think?are they really that unattractive or would you ever get one?these are very sweet cats!juat wanted your opinion.Please let me know if you have one.
8 responses

• Omagh, Northern Ireland
16 Mar 08
Those are the hairless cats,yes? Could be useful if you didn't want the cat shedding all over the house..My cat has this big feather duster of a tail,I don't think I'd change him for one with no fur..I like how He comes in all fluffed out when it's cold outside!

• United States
16 Mar 08
My cat has a feather duster tail too! I love it!!!

• United States
16 Mar 08
What's so ugly about them? I don't think they're ugly at all. Just because they're different because they're hairless doesn't make them ugly! I love any animal regardless of what it is so of course I'm going to say they're beautiful. Besides, it's to each his own taste. Don't worry what anybody else thinks. If you want one, then by all means, get one! I know I would if I wanted one but right now I have two siamese one balenese and 6 mixed breed cats and I also have two german shepherds and one chihuahua and two chihuahua mixs. lol

• United States
16 Mar 08
I totally agree and,i have never been one to do the same thing as everybody else so,i like they are a little different.Only concern i have is they can leave a greasy spot where they lay down because they have no hair to absorb oil.

• United States
16 Mar 08
I personally wouldnt want a sphynx because I love my soft fuzzy little babies however I wouldnt refuse to take care of one based on their appearance. If you want one, I think thats great and I bet they are really sweet pets.

• United States
16 Mar 08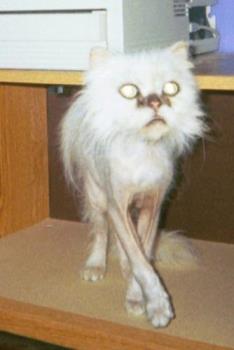 I think they are kind of funny looking, but not in a bad way. I do know that you have to be careful they don't get chills and stuff, you have to keep them warm in the winter. Considering how mine like to have things on (NOT) I can't immagine how you keep little kitty sweaters on them. I love my cats, from my extra fluffy Rio to the oh so sleek Rygel. And ugly isn't bad, ugly can be cute too....


• United States
19 Mar 08
yup!lady in my area breeds them wants $1100.00!

• Australia
17 Mar 08
Awww, how can anyone say they are ugly? They are so cute. Hairless but cute, skin as wrinkly as a baby elephant LOL. I've never seen one in real life, only on TV. But I have seen a hairless terrier locally.


• Garden Grove, California
16 Mar 08
I do not have one and from the pictures I have seen of them they are so ugly looking its frightening. no hair and all skin. there are so many other breeds that are so much more attractive I would not want a sphynx cat at all.that only my opinion.