Have you ever had a nick referred to an Anime?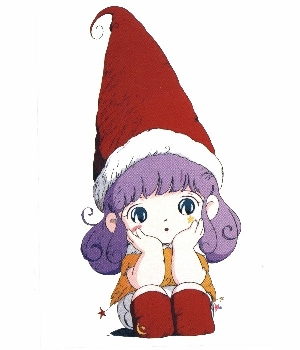 Italy
March 16, 2008 6:32am CST
Have you ever had a nick referred to an Anime character or to something related to an Anime? If yes, which one and why? I've been thinking that I've changed a lot of anime related nicks -I used an email like megumi@... from megumi hayashibara who's a famous dubber of Anime. -I used nicks referred to Slayers: andreSlayers, Amechan, LinaInverseDramata -Now sometimes I use memole from Tongari Boushi no Memoru as nick
10 responses

• United States
17 Mar 08
No, I've never had one but [I'm 1/2 japanese]I've had people tell me I look like some anime characters, like Saya [Blood+] though, lol. xD


• Italy
18 Mar 08
Yes I too still call some of my friends who I've met online with their nicks :D xel is from Xelloss of slayers?

• Singapore
31 Mar 08
When i was in high school, i was really anime mania... I and my group, we have our nick name. At that time, digital monster or digimon and pocket monster~pokemon were really popular... we add our name with mon~ monster. My friend nancy~nan-mon... teesha-boti~mon, ella~e-mon, and me... man-mon. lol... ahahah... we all know how to draw anime and even created our own manga... ahahah... even only with pencil and in bond paper...


• Philippines
29 Mar 08
yes.. mine is shalnaaq(hunterxhunter), it when we formed our circle of friends. and up til now they still call me shal or shalnaaq. it's wierd for those who don't appreciate anime and it's cool for those who appreciate it... heheh

• United States
23 Mar 08
LOL. Funny you should mention that. My nickname has been Kiba for I don't know how many years. But over time, I've used forum names like YamiKiba, gaining Yami as a secondary nickname. . .Some people think I go the Yami from YugiOh and completely ignore the Kiba lol. I originally used the nickname Kiba because I had been obsessed with Wolf's Rain for I don't know how long lol.

•
23 Mar 08
At one point a group of my friends were absolutely obsessed with the manga series "Fruits Basket" so we all ended up with character names from that... It was really weird and quite sad.

• United States
16 Mar 08
I haven't had them. There was someone I knew and a group of people nicked him as "Tenchi". Another friend of mine uses the code/nick "Gohan".

• Philippines
16 Mar 08
During high school, my classmates referred to me by "Mon-mon" since its the first syllable of my last name. Some of them also knew that "Mon-mon" is the last word that Momonja says at very end of his dialogues in the anime series "
Mojacko
" while the protagonist in the anime would say "Moja" after every dialogue he says.


• India
16 Mar 08
Well, I never had any nickname from an anime... Actually, I devised a simple name Hauner from the Pokemon Haunter....well, now I just use it for Harry Potter. I would like to devise a nickname from anime when I can get a chance...but its tough to manage so many nicknames and so many passwords then after. :D lol. I would have gone for any nickname from the names -aikawa (dear boys/hoop days) -kaiera/rukawa (slam dunk)....ummm...thats all!