Arthur C. Clarke dies at 90

United States
March 18, 2008 8:22pm CST
I was sadden to read this this evening. I looked but didn't see any thing amoung my friends so I thought I'd post it. This was a great man, a great scientist and a great writer. He was involved in the developement of radar and came up with the idea of communication satallites. Here is the artical I read for you folks. Science-fiction writer Arthur C. Clarke, who co-wrote the epic film "2001: A Space Odyssey" and raised the idea of communications satellites in the 1940s, has died at age 90, an associate said. Clarke had been wheelchair-bound for several years with complications stemming from a youthful bout with polio and had suffered from back trouble recently, said Scott Chase, the secretary of the nonprofit Arthur C. Clarke Foundation. He died early Wednesday at a hospital in Colombo, Sri Lanka, where he had lived since the 1950s, Chase said. "He had been taken to hospital in what we had hoped was one of the slings and arrows of being 90, but in this case it was his final visit," he said. Clarke and director Stanley Kubrick shared an Academy Award nomination for best adapted screenplay for "2001." The film grew out of Clarke's 1951 short story, "The Sentinel," about an alien transmitter left on the moon that ceases broadcasting when humans arrive. As a Royal Air Force officer during World War II, Clarke took part in the early development of radar. In a paper written for the radio journal "Wireless World" in 1945, he suggested that artificial satellites hovering above fixed spot above Earth could be used to relay telecommunications signals across the globe. He is widely credited with introducing the idea of the communications satellite, the first of which were launched in the early 1960s. But he never patented the idea, prompting a 1965 essay that he subtitled, "How I Lost a Billion Dollars in My Spare Time." Clarke wrote dozens of novels and collections of short stories and more than 30 non-fiction works during a career as a writer that began in the 1950s. He served as a television commentator during several of the Apollo moon missions and co-wrote a 1970 account of the first lunar landing with the Apollo 11 crew. So, have any of you read any of his books? Did you like them? What was your favorite? Dolphin Island was probably my favorite.
3 responses

• Australia
21 Mar 08
I confess! I've never read any of his works, or even heard of him. I bet when I start my Uni studies sometime this century, his work will be on the list.

• Australia
25 Mar 08
I forgot to mention I will be studying literature!

• Romania
4 Apr 08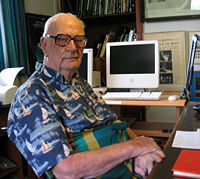 Oh, my! I had no idea he passed away...

He will always be in my memory as the creator of The Space Odysseys, of The Rama books and of the
Arthur C. Clarke's Mysterious World
TV series. A man ahead of his time. May he rest in peace!

•
19 Mar 08
I have read "2001: A Space Odyssey" and then I saw the movie.