Do you have budgees?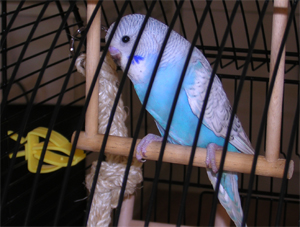 Netherlands
March 19, 2008 3:26am CST
Hello, my name is frank and I really love birds. For over 6 years now I have birds. Some of my birds died, but I bought new ones. Budgees are fun and lovely birds. Just like other parrots they can learn to talk, play football and even more things. It's just about how you tame them. A budgee can just be like a dog! Budgees can have alot of colors (depending on what kind of budgee it is.) Colors like green, yellow, white, blue, pink. Alot of them die earlier because of deseases but they can become like 8 - 13 years old. If there is anyone who has a picture of his budgee please post it down here!Heres a picture of mine:
2 responses

•
10 Apr 08
We havent any birds as pets at the moment..but a few years ago we had a wonderful little lovebird..we called him Charlie...he was with us for a good few years...we knew that they shoul come in pairs..so we asked the vet should we get him a mate...the vet felt that as he was being sociable with us..then he was happy enough. he came out of his cage every day....and loved to share a few currants from a bun...or a little bit of sugary tea on a saucer...he really was a marvellous little chap....and very entertaining!!

• Brazil
8 Apr 08
Hello. I have 2 amazonian parrots. They live more than 95 years, free in nature they can live more than 130 years! They have a green color with yellow in head and eyes,also red and black in the wing. I love my parrots. They talk a lot. Congratulations! your budgee is pretty. good luck