Do you think friendship has got something to do with age?


India
March 19, 2008 4:58am CST
I have always been thinking about friends and friendship as a very important part of life. One may not have parents but always has a friend.So this means that friendship has no bounds and is the need of everyone. But does friendship exist only between two or more young people or two or more old people? Can it be between a 60 year old and a 20 year old.Can they have the same type of relationship and enjoy the relationship with same enthusiasm? This thought confused me a little bit and I thought it would be worth to discuss it over Mylot to get everyone's views about Friendship at a different level between people of different generations. So what do you think about it.Can it really exist in today's life? Also it would be good if you can share some experiences or stories about this kind. Good Day!
10 responses

• United States
20 Mar 08
I don't think that friendship has anything to do with age. I have friends that are 20 or more years younger then me, and others who are 20 or more years older. I think it has more to do with shared interests and shared values. We may not always enjoy doing the same things, and we may have vastly different points of view on some issues, but that's part of what make a our friendships interesting. We always have something to discuss.

• India
20 Mar 08
Its good that you always have something to discuss with them. As far as I am concerned I have very limited topics to discuss with them.

• India
20 Mar 08
yes this kind of relationship exists nowadays,but very few of them.some people try to keep friends in their own age group,little less or more would do.

• India
20 Mar 08
Yes most of the people try to make friends with their same age group,and friends with huge age differences are seldom seen.

• Philippines
20 Mar 08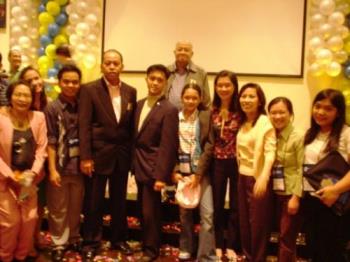 Friendship is a connection that relates two or more person of same interest, ideals or beliefs. Not any two can be always of the same age. Most of my friends are twice or three times my age and for me it doesn't matter. I feel more comfortable with the connection I have with them because I feel that they have more experiences than I do. I learn a lot from them and the boundaries of friendship has nothing to do with age.

• India
20 Mar 08
I think the relationship you are talking about is something other than friendship bacause friendship is not only about sharing experiences and being comfortable with each other,it always being together and enjot things together. So you can't do these thing with old people!

• China
20 Mar 08
Friends is very important to me, who can give you a lot of happiness and help.and i'm very pleased that i have a lot of friends from teenager and middle-aged people.Friendship is a great wealth to me whatever how old he is and if he is rich or not.

• India
20 Mar 08
Yes so now I got some sober speaking up.Its a very smart answer.I liked your statement,"Friendship is a great wealth to me whatever how old he is and if he is rich or not".

• Philippines
19 Mar 08
Hi there amey_dev143! You are right, friends and friendship is a very important part of life. I think that there is no age restriction with friendship but it plays a really important role. People in the same age group are more likely to be friends because of the same interests, same situation somehow, same issues experienced and other thing like that.

• India
19 Mar 08
Nice one nanayangel.Many of the people think the same in this case as we both do! Same age group = Very good friendship,different age group = not so good friendship! But friendship really is a gift to mankind.

• India
19 Mar 08
i think there can be nothing in friendship. but have seen people say it is more common to be friend with peopel of similar age.may be the interests are similar and thus the friendship. still there are friendship between people of totally different age group.

• India
19 Mar 08
Yes,it is very common that people have friends with same age but to see friendship of two or more people with a big age gap is a very rare thing. Well said subha12!

• India
19 Mar 08
Dear Amey, I do hope friendship has various roles and impact according the friendship that they keeps with other. It also depends how well they keep their friendship and also age is not a constraint as long as they go well as friends. It might be other qualities that other do do may be robber has friends mostly related to his job or his interest he posses a gang of them, a student has more of students friends so on goes may be the situations one is in, the place, the job, all these factors also give their part in forming and getting good friends. Age also depends accordingly.

• India
19 Mar 08
Well,everyone has adifferent view on this like you and me do!

•
19 Mar 08
Of course it can exist but would only happen on a rare occasion as obvioulsy both old and young people would have different ideas regarding fun/entertainment/pleasure.

• India
19 Mar 08
Yes,even I think so that very rarely people who have large age differences can be the best of friends because of their thinking and the generation gap. We can be good friends but not the best ones like we are with the people of our age!

• New Zealand
20 Mar 08
Hey I think it depends on weither it is guys if you a girl or girls if you are a guy then only to a certian age it is okay but 10 or 12 years no more I reckon a.

• China
20 Mar 08
Hmmm, In my opinion, the answer is yes. I'm not saying an old person and a young guy can not become friends, i mean they can't be very good friends. As we all know, generation gap actually exists.Every age has it's own charateristics, so people in different generations have different fashions, hobbies, topics, and People are usually bound together by the same interests in something. So i really think friendship has got something to do with age.