Did you know this about catnip? I learn something new every day!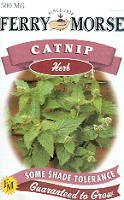 United States
March 19, 2008 2:55pm CST
I just responded to a discussion about growing your own catnip and went on a search to find out more about it since I would like to give it a try. In my search I ended up on the Gardener's Network homepage and it says that becaue of it's lemony mint flavor, Catnip is also used cooking and especially in herbal teas. It also says it can be used in treating colds and cold symptoms. Has anyone else ever heard of this? Have you tried it for anything other than for your cat?
5 responses

• United States
24 Mar 08
I have heard that catnip makes a good tea for colds and can be used in cooking. I have never tried it though. I afraid I might start acting like the cat,sleeping all day and chasing little balls (Ha Ha) Really I usually use horehound tea with lemon and honey for my congestion.

• United States
24 Mar 08

Can you see yourself running around looking for a tail to chase or balls of yarn?

• United States
24 Mar 08
Well now that is very interesting! My cat dearly loves catnip. He goes crazy wild when he is exposed to it and eats it. Strangly, it does not have that effect on my son's cat, it actually has no effect on his cat! Hubby grew some catnip in our garden one year as well as some spices and other things. After drying the various spices he put them in empty spice bottles. The catnip was placed in a zip-lock baggie. He laid the zip-lock baggie on the counter and my daughter thought it was oregano and put it in the spice cabinet. I came along and made home-made spaghetti sauce and used the 'oregano' (feeling quite proud of us for growing our own)in the sauce. Half-way through the meal my hubby says, "I think that the sauce is so much more flavorful with the home-grown, fresh spices. I added that I thought so too! My daughter said something about the oregano and my hubby said, "I didn't grow any oregano." We got a big kick out of eating the catnip and worried that we might get sick, but never did!


• United States
24 Mar 08
I found out yesterday that my cat doesn't like catnip but I'm going to try growing it to see if that makes any difference.


• United States
24 Mar 08
I have known about the cure for colds but I'm not a tea drinker myself so although I've grown catnip for years I've never used it myself.