Bored?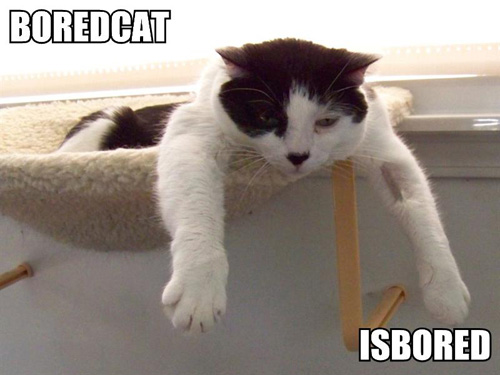 Canada
March 20, 2008 7:49am CST
Do you ever get bored with a discussion you post almost immediately after you post it. A few days ago I started a post that seemed like it would be interesting and get a few responses. It did get a bunch of responses, but I realized the discussion is a dead end, there is nothing to respond to in any of the responses. It is a post a response and never look again type of discussion. Normally I like posts where there is a lot of back and forth going on, basically actual discussions. Have you ever started a post you thought would be an interesting discussion only to find out it is pretty much a one response type of post? Or do you actually like the posts where you don't really have to respond back to responders?
3 responses

• United States
20 Mar 08
I know when I post I like comments back. So I try and do the same. Although there comes a point when you just cant get the last word in-LOL

• United States
21 Mar 08
I know what you mean like the discussion I had on flirting that was fun. I need to think of something fun and do it again


• United States
20 Mar 08
I've had some like that. I don't need to be able to have 20 comments back and forth with each responder to be happy but sometimes there really isn't anything more to say beyond...yes exactly, thanks for the response, I agree...and that gets boring.

• United States
20 Mar 08
Yep, same here. I've even tried to pull out the tiniest bit of information from their response, even if it was off topic just so I could acknowledge them without "getting in trouble" with mylot, but usually there just isn't anything there.

• Canada
20 Mar 08
I've gotten bored with a few discussions I've created, but I manage to respond to each and every post irregardless. I try to take something from the reply, and put that into my response. Sometimes it can be VERY tempting to simply write, "Thank you for your response, have a nice day" over and over and over again. But I do aim to take the high road, and avoid that.

I too prefer the discussions that are, as you said, discussions. However, I'm not always the best at keeping up with them. I don't use the notifications offered on here, because I'm pretty sure it would stress me out, trying to keep up with every single discussion I've taken part in.

• Canada
20 Mar 08
btw... congrats on remembering to add a picture to the discussion. :P