Do you have a favourite movie quote? Why?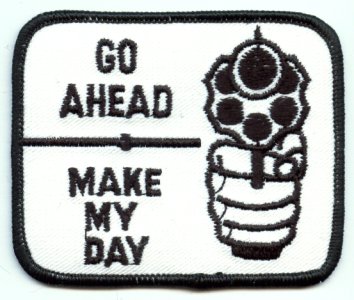 Canada
March 20, 2008 1:05pm CST
I was fiddling around with my facebook profile, trying to get rid of a bunch of groups and applications I don't use, and I checked out what I had written in my "quotes" section. It's from the movie "Evan Almighty", and I find it to be so inspirational, based on my spiritual beliefs: "Let me ask you something. If someone prays for patience, you think God gives them patience? Or does he give them the opportunity to be patient? If he prayed for courage, does God give him courage, or does he give him opportunities to be courageous? If someone prayed for the family to be closer, do you think God zaps them with warm fuzzy feelings, or does he give them opportunities to love each other?"-Morgan Freeman as God in "Evan Almighty". That movie quote makes me stop and remember that everything happens for a good reason. There are always opportunities available to us in every minute of every day, and we need to learn to take hold of them when they present themselves, in order to better ourselves. Another favourite of mine is from Dustin Hoffman as Captain Hook in "Hook": "Why would I lie? It's far too much fun telling the truth!" Do you have a favourite movie quote? Why is it a favourite quote to you? Are there any famous movie quotes you can share?
6 responses

•
20 Mar 08
"Practically perfect in every way", Mary Poppins, but am I talking about myself? It is what I used to tell my daughter when she was ticking me off about something. My other favourite is really a song: "We're men, we're men in tights", from Robin Hood, Men in tights - same film, Rabbi Tuckman with reference to circumcision: "The ladies love it". I'm not a very sophisticated film watcher I am afraid.

• Canada
20 Mar 08
I haven't seen Men in Tights in a very very long time. That's one I should try and find and burn. It can sit on my dvd shelf next to "Spaceballs" and the like. ;)

• United States
20 Mar 08
I'm not sophisticated either. Robin Hood, Men in Tights is a great movie. I love that song, too.


• United States
21 Mar 08
This is not so much a favorite quote as one that I have used often with my clients to make them laugh and to help them understand the views of some of their unfaithful boyfriends and husbands ... It comes from the King and I... "A woman is a flower. A man is a bee. A bee can go from flower to flower but a flower must never go from bee to bee." It clearly points that double standard that often exists. I like the quote from What the Bleep do we know about water after the scenes showing the beautiful ice cystals with the great words like peace, the chi of love, etc. and the horrible looking ones made from the water exposed to the words like hate, etc. One of Dr. Emotos admirers said to the protagonist in the movie who was talking horribley to herself about her past... "if words/thoughts can do that to water (create beautiful or horrible ice crystals) one wonders what our thoughts/words can do to us." This pointed at our ability to speak and to change our lives in the speaking as we are in our blood 80 percent water, lungs 90 percent water, brain 70 percent water, and 65 percent water in the body as a whole according to MSN Encarta.

• Canada
21 Mar 08
I love that quote from the King and I. :) What a fantastic analogy to use with your clients. :) That is so very powerful; the statement about the water. It reminds me of that saying we'd all spout out as kids, "Sticks and stones may break my bones, but words will never hurt me". Words are such a powerful force, and that saying was supposed to help us feel protected against them. But words can still cut deeper than any sword.

• United States
22 Mar 08
You are so true about the power of words... They have the power to wound or heal. I remember witing as a child, "A verbal bite is a painful bite. It cuts into the soul." and "Children remember, words are not just play..." I was thinking about some other movies but it seems that is the songs that I am remembering more than the dialogue.. The whole Wizard of Oz... "If I only had a heart..." And then the words about the fact that the lion showed courage, the tin man showed that he had heart and the scarecrow that he had a brain. all through using them.... I like this because it is so true that we all have these things and that we do not know we do until we use them... I also like the, "There is no place like home..." as it reminds us all to appreicate what we have while we have it... and not to want to always be somewhere other than here and sometime other than now. I also am remembering the "May the force be with you..." I like that as a blessing ... Peace to you as well.

• Canada
22 Mar 08
The Wizard of Oz is my most favourite movie of all time. Every time I watch it, I learn something new about myself or humanity in general. It's a masterpiece.

• India
21 Mar 08
Thanks for asking my favorite question. I always savor the great quotes from the movies. I still remember how the Yule Brunner the Pharaoh tells to Moses the Charles Heston. 'The city that you build will bear my name And the girl that you live will bear my child'. As a kid I found these words the most cruel sad and at the same time magnetic and I feel the same still. And now Tom Cruise in 'A few good men',"I want the truth. Jessep" And Jack Nicholson replying back in his inimitable style, "You can't handle the" truth. It was just astounding.

• Canada
21 Mar 08
It's amazing how some of these movie quotes can be so powerful, and affect us right from childhood into our adult lives.

• India
21 Mar 08
some time back i saw a movie Back to the Future II. it had this dialogue.... it was quite funny and so i am quoting it... The time-traveling is just too dangerous. Better that I devote myself to study the other great mystery of the universe – women! well it was one of my favorite quotes

• Canada
21 Mar 08
I love the Back to the Future movies. :) That must've been something Doc said. :)

• United States
20 Mar 08
OOohh I have some I have some!!! from Dogma (one of my fav films) "
Rufus
: He still digs humanity, but it bothers Him to see the sh*t that gets carried out in His name - wars, bigotry, televangelism. But especially the factioning of all the religions. He said humanity took a good idea and, like always, built a belief structure on it.
Bethany
: Having beliefs isn't good?
Rufus
: I think it's better to have ideas. You can change an idea. Changing a belief is trickier. Life should malleable and progressive; working from idea to idea permits that. Beliefs anchor you to certain points and limit growth; new ideas can't generate. Life becomes stagnant" ----------------------------------- also from Dogma
Serendipity
: When are you people going to learn? It's not about who's right or wrong. No denomination's nailed it yet, and they never will because they're all too self-righteous to realize that it doesn't matter what you have faith in, just that you have faith. Your hearts are in the right place, but your brains need to wake up. ----------------------------------- From Powder (another of my fav movies)
Lindsey
: It's hard to believe that, all of that.
Powder
: It's because you have this spot that you can't see past. My grams and gramps had it, the spot where they thought they were disconnected from everything.
Lindsey
: So that's what they'd see if they could? That they're really connected?
Powder
: And how beautiful they really are. And that there's no need to hide, or lie. And that it's possible to talk to someone without any lies, with no sarcasms, no deceptions, no exaggerations or any of the things that people use to confuse the truth. --------------------------- I have others too but I have to run out to Walmart real quick...LOL I actually have tons more


• Canada
20 Mar 08
I've never seen Dogma, but those are powerful quotes for sure. Powder was an incredible movie. I saw it only the once, years ago, but it's one I wouldn't mind seeing again. Such lessons in humanity in that film. I hope you have a delightful shopping experience at walmart. Beware: they may not sell earphone foam covers or bananas.

(references to another discussion I have on here lol)

• United States
20 Mar 08
I have a favorite quote from Willy Wonka and the Chocolate Factory. "If the good Lord had intended us to walk, He wouldn't have invented roller skates." Not inspiring, but fun to quote. I had it as my signature line on a forum once. For inspiring, I'd have to go with a quote from an old Disney television movie. I think it was called "Mary White". She said, "It takes more courage to do what you're afraid of than to do what you enjoy." To me, doing what you have to do or taking challenges despite fear is braver than not feeling it at all.

• Canada
20 Mar 08
Those quotes are great! I haven't yet seen Willy Wonka and the Chocolate Factory, and that quote sounds like something Mary Poppins would say... very "Disney-like" indeed. :)