my foot is killing me

United States
March 20, 2008 1:48pm CST
I was walking around the house bare foot. I was cleaning and I didn't fall or lift anything too heavy but now the arch in my foot feels like a knife is going through it. Anyone else ever have this happen? Any ideas what it might be? I can't even put weight on it now.
6 responses

• United States
20 Mar 08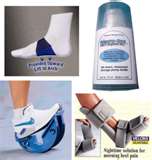 It sounds like you have what I had and my husband still has. Hubby has it in both feet and I had it in both but got one healed and had to really work hard on the other and got it healed too. It's called Plantar Fasciitis. To cure it, never ever go without shoes, even at home. (I hated that part so bad!) When sitting down, use a golf ball on the floor and roll your foot on it to stretch the tendons. When you go to bed, wear some hard soled slippers so you won't bend your foot while sleeping. See the picture? You need to get the band that goes around the arch to wear in your shoes to keep the muscle stretched. At times, stretch your foot against a wall such as a doorway. You have to do all of this till the pain stops and goes away. It's hard work but if you want to get out of pain, this is what you have to do. I think the reason my hubby's feet still hurt is because he quit in the middle of the treatment.... arg!! But I healed mine and we know of another person that had it and he healed his too and you can too but have to keep up with it. Stretch your foot as often as possible to heal it but also be wise about it too and give it a break. In other words, don't do it all day long but a few minutes each time about once an hour or so. It does work because now I can go barefoot at home once again and it doesn't hurt anymore!!

• United States
20 Mar 08
Well, it could be what has already been suggested. Especially since it's only in one foot. The only time I've ever had similar pain is back in high school my feet started hurting really bad. Because I was wearing alot of flip-flops (competitive swimmer then) and other flat bottom shoes with no support in them, both my arches were falling. Adding inserts with arch support helped immensely.

• United States
20 Mar 08
I am a barefoot peron, always have been, always will be.I am oringally from Vermont but moved to Florida about seven years ago. In Florida all the houses are cement floors. In Vermont most houses have wood floors. There is a difference in the flooring and how your foot reacts to it. Have a doctor check it out before it gets to bad, it may be bone spurs. That is little chips of bone in your foot moving around making it feel like a knife. Hope it gets better.

• United States
21 Mar 08
Omg yes! The same thing happened to me a few weeks ago. It was very painful. My husband thought it was because I was on the tile and wood floor barefoot, so he suggested that I start wearing my sneakers around the house. ( we never wear shoes in the house). It took about 6 days, but the pain slowly went awaay and the shoes seemed to help. I am back to being bare foot most of the time, but when on the hardwood floors, I tend to put my slippers on.

• Garden Grove, California
20 Mar 08
yes and while it could be just a pulled muscle there is also a chance you might have ruptured a tendon and if so you need to see a doctor and preferably an orthopedist as a ruptured tendon left untreated may result in permanent damage to your foot. I know because a fool doctor just diagnosed my pain as a simple sprained ankle and I did not get the proper treatrement until it was too late to repair the ruptured tendon hence I am stuck with a brace and orthopedic shoes in order to be able to walk as the ruptured tendon let the foot roll over onto its inner side.