Too windy....and cold brrrrrrrrrrr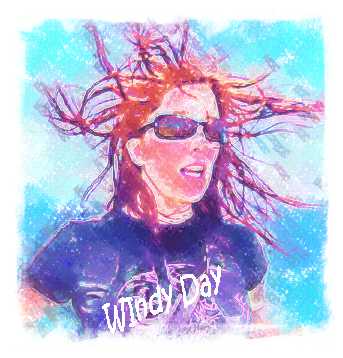 Canada
March 21, 2008 12:04am CST
I opened one eye. Then another. Sun was pouring in like Spring had really arrived. I looked out of the window and smiled. Hmmm.... it really is the first day of Spring!!!! I got dressed and decided to trade the heavy sweater for a lighter one. I was still going to take the warmest jacket, but at least I wouldn't feel too hot at work. Grabbed my back pack and opened the door.... oops, my bad. Who told me to believe what I see from the window? It sure was sunny, but that was about the only sign of Spring. It might have been an ok day, if the wind wasn't so strong and cold. But the only thing I could think of while waiting 15 minutes for the bus was that I really felt like a Popsicle. It was even worse coming back home after work. It's usually not as cold as the day goes by, but this time, the wind didn't calm down and then I had to wait for such a long time for the bus. 33 minutes to be exact. All the while having the wind blow in such a way that it pierced my best winter jacket. Not even counting my poor face, specially nose, and hears. Now I'm home and my throat is hurting. So are my ears. Not nice. Spring is not supposed to give you frostbite:) SO... how nice was the weather today for you?
2 responses

• Canada
22 Mar 08
One of the "fun" things about early spring is trying to figure out if the weather has decided which direction it wants to go; towards summer or back to winter.Some days here we get both ! I have had one day of suntanning so far(a day in Feb) but today it was cool and cloudy with a touch of rain.Life on Vancouver Island is SO hard(hehehehe)

• Canada
30 Mar 08
LOL I think I would do better in Vancouver island than in TOronto. THe climate seems closer to what I was used to. ALthough in all fairness this weekend is nothing to complain about, it's kind of fine. Not too warm, but not too cold either :)

• Canada
31 Mar 08
A fellow Canadian! Today here it was around 12 degrees....tonight we get a touch of snow.....gotta love it!

• United States
21 Mar 08
Exactly as you described it but the wind was worse. It was very strong. We were downtown DC this afternoon to pick up something from my husbands work and my son wanted to see the Jefferson Memorial so we parked up and decided to take a walk there. Boy was it COLD even though the sun was out and the winds were very strong. Since he was so interested in seeing it (he's only five) we thought just to handle the cold and wind. I think we were out there 20 minutes tops and then headed back to the car and drove back home to a warm apartment. To me, today was not the first day of Spring even though they said it was LOL I hope it's nicer tommorrow!