was i the only one who edward scissor hands scared the hell out of?

United States
4 responses

• United States
20 Jun 09
I was 5 when I first saw "Edward Scissorhands", and I used to be so scared of him!!! I was really scared of his walk and when he accidently cut the little boy while trying to help him, haha and especially when Winona Ryder's character "Kim" saw him in her bed in the mirror! I remember I would always tell myself, "It's just Johnny Depp" over and over...bc I knew him from 21 Jump Street. But NOW, "Edward Scissorhands" is one of my all-time favorite movies, and I'm a huuuuge Johnny Depp fan!

• United States
21 Mar 08
I did find him a bit scary the first time I saw the movie but after watching it a couple of times he became less scary and freaky.

• United States
21 Mar 08
At first Edward Scissor Hands did scare me. But as I got further into the movie, I realized it was a movie about outcasts and people who are different from others. (or is that being redundant?) It's also about looking beyond the outer covering of a person and seeing what's in his/her heart. I really liked the movie. I wonder if they have it on itunes or if we already have it here in our vast collection of movies. :-D

• United States
21 Mar 08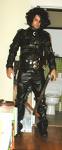 I didn't find it scary at all but then I'm a big fan of horror movies....I still didn't find it scary though.