Dumb girl

China
March 22, 2008 8:28am CST
I feel like a dumb girl.I don't know why I don't want to talk to anyone ,even to my boyfriend,or just to my boyfriend.Maybe before his farway,I just don't want to talk on the phone or by MSN. I spend most of my time alone by the computer screen in my apartment.I haven't talk to anymore for days,sometimes even don't step out my apartment.I know it's kind of weird to someone,but I need to do my online earning.I just started ,I have a lot to learn.The internet is like my only window to the world.I am use to it. There one question I can figure out is I don't want to talk to my boyfriend.Maybe I am too independent,I need a change sometime,but not now.
5 responses


• Philippines
29 Mar 08
okay.. so i guess i can understand you.. i was like you... or still like you.. i dont know. i came to that point too where internet is more important than talking with my bf.. and i gave more importance to mylot and to other sites than him or spending aminute sending him an sms. i guess you are hybernating at this point, doesnt want people to notice you, or is just thinking of something important... things you like to do to your life.. are you in some way trying to get away from the world? you cannot do that for a long time... think of it, and then face whatever it is that might be bugging you. talk to your bf. he must be so worried about you.

• United States
22 Mar 08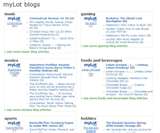 Mylot is very addicting at first however, you need to remember you have the "real" world too to live. So don't give up your life for the "fake" one because it's just not worth it. I mean, we can make really great friends on here but what about life in the real world too? You've got to live on or you'll regret that you've spent so much time on here.

• China
22 Mar 08
I have the same problem as you. Maybe I'm a little self-centered. Sometimes I don't want to care about other's business. I prefer to stay in my bed and go on the internet.. I feel that I need more space, the one I don't want others to bother.. I know it's not a good thing...