What is your general opinion about Abraham Lincoln?

Turkey
March 22, 2008 3:20pm CST
I am currently interested in worlds political history and would like to learn more about the historical things about the politics because they have quiet important effects to this day. I don't have so much clear information about Abraham Lincoln but as I have heard from a teacher of mine, he followed a different way from many others. What is your opinion about Abraham Lincoln, and what was the difference with his leadership?
4 responses

• United States
23 Mar 08
You are not going to like my opinion of Mr. Lincoln. I'm sure that there will be a blevy of scathing posts in response to my opinions of the man and his presidency. But here goes anyway, because someone has to speak up. The textbooks and historians, professors and teachers won't; certainly the present government won't. My opinion of Mr. Lincoln is extremely negative! It is my opinion that he is the worst president that this country ever had. He instigated the war of northern aggression, believe me, there was nothing "civil" about it, by his policies of a larger and more powerful federal government that would preside over the states. Up until then it had been widely held, and not only in the south, that this was a nation of independant sovereign states bound together in a federated republic. That State's rights were sovereign. Mr. Lincoln opposed this notion and wished to usher in a strong Federal Government that would have rule over the states. Because of this ongoing turmoil several states in the south decided that they'd had enough and seceded from the union of independant sovereign states known as the United States and formed the Confederate States of America. Mr. Lincoln became enraged over this and sought to force the secessionists back into the union. For a period of 18 months he sent letters to the Governors of eight of the Northern States asking them to give their State Militias over to the Federal Government to act with the Army of The United States in order to invade and force the secessionist states to rejoin the union. Each and every one of them, including the Governor of Pennsylvania (where I live) refused his requests on the grounds that they would not have any part or party in letting their Militias invade another Sovereign State. They, too, felt that this was supposed to be a union of independant sovereign states and not a strong centralized Federal Government that would be able to tell the states what to do. Upon realizing that he was getting nowhere with the Northern Governors, he decided to play the slave card. Mr. Lincoln, a slave owner himself, decided to suddenly oppose slavery and had the media of the day proclaim loudly that slavery was evil and that since the Confederate States of America allowed slavery, they were therefore evil as well and must be forced to abolish this evil and return to the union. That worked, the public became incensed and the eight Northern Governors reversed themselves (bowing to pressure from their own citizens) and gave him their Militias. Mr. Lincoln ordered the Army to cross the Potomic and invade Virginia and the war of northern agression was on. That war was not really over slavery at all, it was used as a smokescreen to get the public riled up enough to support his invasion of the South. Here I must insert a personal opinion, lest some people get the wrong idea. I do not support slavery myself. I do not say that the South was right to continue to allow slavery to go on within their borders. I, personally, am against slavery and believe that it is wrong for one person to own another person. I'm not thrilled with endentured servitude either, and am glad that we've pretty much done away with that also. I simply am saying that this issue, which every school child in America today is taught, that this was what the war was all about. It wasn't! It was about whether or not this was a Union of Independant Sovereign States, or a strong Federal Republic that had power over the States. It literally was about States Rights. Since the North won the war, the South was crushed under their heel and a strong, centralized, Federal Government emerged from the ashes. If you don't like the huge bureaucracy that the Federal Government has become today, then blame, or thank Mr. Abraham Lincoln for it, because it is solely his doing that set in motion the cogs that are now the entrenched Washington bureaucracy that we have today. Now, lest anyone think that I am just "some angry Rebel" from the South, let me disabuse you of that idea right away. I was born in HI, raised in CA, and lived all over this country, both North and South. I spent the greater part of my adult life in the Military and worked in Washington, D.C. in one of those big bureauracies. So I know whereof I speak. I hold two doctorate degrees and have come to the conclusions that I have through study of history, and doing some real digging. It is my fervent opinion that if the founding fathers could see what their dream has become, they'd all be sick and demand the immediate overthrow of what they'd perceive to be a totalitarian regime that rides roughshod over the rights of the States. (I do NOT advocate for this. I don't think we have to, the government is doing a great job of destroying itself, all by itself.) As an aside, I believe that even had the South won the war, the Confederate States of America and The United States of America would have most likely rejoined within a couple of decades at the most. But to get back to the original question "what is my opinion of Mr. Lincoln"? Personally, I despise him and what he stood for and did to this country. So OK folks, let's hear it. I know that a cacaphony of scathing posts is on it's way.

• United States
23 Mar 08
Hello Wanblygaleshka, You'll get no scathing rebuke from me. While I disagree with you on Lincoln's actions and the reasons for them, I share the minority passion that you have presented here. In my case, it is in regard to another U.S. President, FDR. So, I completely defend your right to 'walk to the tune of a different drummer'. Though, regarding the Civil (or Un-Civil) War, we should remember that slavery was only the tip of the iceberg. The contention initially began over economic practices that supported the view of independent states/territories over the Union. So, while you are right that Federalism did grow as a result of the Civil War, we should also remember that history has provided us a great many examples of territorial or 'clan' economies that prevented their peoples from achieving unified greatness. While I am a strong advocate of State's Rights, I also recognize the need for unified states, regarding the purview of the federal government. As examples of 'clan' economies, Ireland and Scotlant first come to mind for me. Where both societies spent hundreds and hundreds of years warring among themselves, and subsequently positioning themselves for conquest by other, more unified imperialists, namely the British Empire. The same is true of the rise, and expansion of the Roman Empire. We should also remember that the North/South contention escalated to full-bore hostility ONLY after the debate over the direction that the new, Missouri Territory would take, specifically whether the support of territorial/slave economics would expand into the Western Territories, or not. I believe that Lincoln understood the possible ramifications of 'drawing a line in the sand' on socio-economic principles, and chose to follow the age old wisdom that "United we stand, divided we fall".

• United States
25 Mar 08
WanblyGaleshka bows to Lilwonders and says, "Why thank you from the bottom of my heart, Ma'am, for your kind words." Such high praise, worded the way it was tells me that you must be a true born and bred Southerner. As I said in my post, I HAVE lived all over this great country, a good deal of the time in the South. I have gotten to understand what true Southern Culture really is (and that pertains to Blacks as well as Whites). I find that many of the values held by Soutnerners to be unequaled almost anywhere else in this Nation. But (doesn't it always seem like there's a "but" in there somewhere? LOL) The conclusions that I came to which I posted were not based at all on having been in the South or my friendships with Southern Ffolk. Rather they were based upon yrs of study outside of the classroom. Digging and reading things that most ppl have never heard of, let alone would bother studying. Such as; the Congressional Records pre-war, during the war, and post-war. Lincoln's own diaries, letters, etc., copies of newspapers from the era, both Northern and Southern papers, and a host of other things. All these things led me to believe that Mr. Lincoln was, indeed, a Tyrant who had dreams of dictatorship. I just took the time to read through the rest of the thread and see that there are others out there that have the courage of their convictions to speak up as well. Yes, it is absolutely, most politically incorrect to voice these views. But then I am one of those ppl that cannot abide political correctness anyway. I do try to see all sides of issues, and to understand where everyone is coming from when discussing things with them. I try to educate myself on various cultures and beliefs, even a few languages. T.S. Lawrence once said, "No matter where you go in this world, learn the language. If you can learn the language, you will understand the people and how they think and why." That was a brilliant man! We'd see a whole lot more harmony in this world if everyone would try to follow that advice and learn about other people. How they think, why they do, what they believe, and why they believe the things that they do. My people have a saying that one should never judge another person until you have walked for a moon in his moccasins. This is something that I have tried to live up to. I hope that it does give me a little better understanding of other ppl.

• United States
24 Mar 08
It is politically correct to say that Abraham Lincoln was a great President, but politically my ideology would be closer to the C.S.A's government. I do not agree with slavery, but if you take slavery out of the discussion alot more people would side with the C.S.A. Abraham Lincoln tried to become a dictator over the remaining Union states. When the courts overturn his laws, he threaten to arrest them.

• United States
23 Mar 08
Hello the_ruler, First, let me thank you for understanding that the past has an enormous effect on the present, as well as the future. If you carry this knowledge with you through life, then you will be well on the road to acquiring Wisdom! As for President Lincoln: Wow, this is an enormous question that you've asked. Although, if I had to summarize his leadership style in a single paragraph, I would do so thusly: Abraham Lincoln was a man who understood that to act in accordance with WISDOM, one must be open to multiple perspectives. When the balances are weighed, and the variables are laid out, one must be willing to make great sacrifices for what is right and good, while considering the consequences to all. His thirst for knowlege was unquenchable. And, he weighed every decision against what he knew to be honorable (not an easy task in any age). Moreover, he understood the value of contemplation, while not allowing fear to compel him to avoid action. This is a clear indictor of a balanced, or composite personality -- one who embraces the analytical, yet is able and willing to take control. This is not to be under-weighed, as it is an extremely rare blend of personality characteristics. He was a solitary man, who refused to discount the value of those who had more expertise or knowlege than himself, Yet always deferred his personal power to a larger, greater reality than his own personal gain. While he was certainly not a collectivist, he did thoroughly understand human interdependence. And, I believe, perceived himself as a tool, by which a greater reality might be formulated. Lastly, he seemed to have a true gift for empathy. He deeply cared about the effect that his actions would have on all of the people who might be affected by those actions. In fact, he was known to deeply contemplate the ramifications of his actions, before taking them. Where much could be written in this forum about the man, and his Presidency, I would urge you to seek out his own writings, and the early works of his biographies on the internet. You will learn much more there, than from the sentiments of people who 100+ years later, remember him as one of history's greatest leaders. My opinion of his leadership is that he unquestionably achieved greatness, through humility. How did his leadership differ from others? Sadly, I believe that most leaders pursue leadership positions for reasons of ego. This leaves them subject to judgement concerns, as they tend to concern themselves more with personal gain than with honor. I hope that you do more independent research on this great man. You will learn so much, and will likely be a better person for your effort. Enjoy the task at hand!

• United States
25 Mar 08
Hello The_ruler, and others who have responded to this thread, Since the_ruler is not from the USA, but instead hails from Istanbul, I thought that it would be helpful to frame this debate as other than the North/South cultural-political divide. In fact, there were a great many variables that caused Abraham Lincoln to win the Presidential Election, and to pursue the terribly costly re-unification of the nation. This was a tremendously rocky period in American History, as it was elsewhere around the globe. No President preceding Lincoln was able to adequately address the Liberal-Conservative, State's Rights vs. Federal rights, Sovereign vs. Collective Rights issues.
To this day, we still struggle with these issues, and will probably do so as long as Freedom is such a vital principle to all Americans.
So, to add texture to this discussion, I have provided a bit of 'food for thought'. Perhaps it will help those who are not American Citizens to better understand Lincoln's terribly precarious position, and help to provide some illumination for the reasons why he did what he did. Of course, any or all are free to disagree with his reasoning, though I dare say that Lincoln's was perhaps the most challenging Presidency in our nation's history.
Would any of us have wished to walk that mile in his shoes?
Below are some quotes from a scathing, though relatively unbiased appraisal of the state of affairs of these United States leading up to, and including the U.S. Civil War. I would urge that it be read in its entirety.
http://ngeorgia.com/history/why.html
[i] "The ugliness of the political process quickly began to show as parties turned upon themselves…. From 1837 until 1861 eight men became president, but no man served more than a single term in office. One sitting president was not renominated by his own party, and another withdrew his name after being nominated…. The United States had been moving towards a fractured, divisive society for a number of years. Cultural and economic differences served to widen the rift…. The South was wrong to assume Lincoln intended to free the slaves. He had never advocated action to abolish slavery nor did he speak out against the Illinois rules prohibiting blacks from testifying against whites…. In his inaugural address Lincoln made it clear he would not interfere with slavery where it existed. Even though he made this speech after the South seceded he left the door open for their return…. Lincoln quoted "...a house divided shall not stand..." from the Bible …. A year later Lincoln restated why the war was fought when he said, dedicating a cemetery at Gettysburg "..
... for those who here gave their lives that this nation might live."[/
i] Clearly, the divisiveness of the nation was creating a very great risk that the nation would splinter, thereby leaving itself open to foreign aggression. Let us all remember what was going on in Europe at this time in history – the Crimean War, with almost universal concerns over Russian imperialist expansion:
http://web.mit.edu/17.423/www/Crimean%20War.PDF
Plus, the surge of Spanish Nationalism following a series of Spanish Civil Wars, and the growing unrest in Spanish occupied Cuba, just 90 miles off the coast of the USA. All in all, I'd say that Lincoln's fears for the survival of these United States was more than justified. And, in fact, if the politics of the nation had not been so divisely splintered, Lincoln never would have won the election.
"Few gave him (Lincoln) any chance of success, but 3 other candidates split the popular vote and Lincoln won…."
http://ngeorgia.com/history/why.html
So, while I clearly understand (and share) the contempt for an overly intrusive federal government, I also recognize the very real possibility that had Lincoln not been willing to place the survival of the nation over regional concerns, that we might very well had not seen the rise of the USA. And yes, the biggest horse pills are always the hardest to swallow! I believe that Lincoln fully understood that his Presidency was quite obviously between 'a rock and a hard place'. Where none can argue that the enslavement of another Human Being is wrong, in every way -- I'd say that the Lincoln made the right choice to once and for all quash this terribly egregious economic choice for the attainment of wealth!!! I'll also add that where I would generally leave well enough alone, I am personally deeply concerned over the divisiveness that we so clearly see in the USA today. We're still deeply entrenched in the Liberal vs. Conservative, and State's Rights vs. Federal Rights issues this day. Though, let's hope that the current remedy will see a much more civil resolution! Where the heck is the 1980 U.S. Olympic Hockey Team when ya' need them?


• United States
27 Mar 08
Hello Lilwonders, While I understand your take on this issue, and respect (and in many cases) share your beliefs regarding States Rights, I'm inclined to point out two things: First, the original question was: "What is your opinion about Abraham Lincoln, and what was the difference with his leadership?" We have both freely shared our opinions of Lincoln, and I have offered my perspective of what I believe was unique about Lincoln's leadership skills. Which brings me to my second point: Second, as I'm reading it, the question wasn't asking whether the Grey or the Blue was right. Though, since we're already off-topic, I will beg a little further indulgence from the_ruler. Since it is quite reasonably a thorn in the side of many of today's Constitutional Southerners, I will go out on a limb and share my own personal, hypothesized perspective. While I can never truly imagine what it must have been like to live during the time of our greatest national crisis, I believe that I would have sided with the North. I believe that I would have done so for two reasons. They are: 1. It is clear to this day that there can be no compromise between two groups of people, when one believes that it is their right to enslave other Human Beings for reasons of wealth attainment, and where the other believes that greed should never trump the principle of 'freedom for all'. -And- 2. Without question, I would have put the survival of the Nation over the rights of one segment of the population to pursue individual liberty, at such a great cost, in spite of the principle of Divinely endowed sovereignty. To be sure, I don't say these things lightly. I have considered the deep crevasse that we see dividing our Nation today. It is not so unlike the chasm that divided the nation of our ancestors. In today's world we still find two groups, where one seeks federal government controls, and the other abhors it. Today, the chasm is called Liberalism (or Collectivism) vs. Conservatism. While I am squarely entrenched in the Conservative camp, if the survival of the nation were at risk today, I suspect that I would no more support abandoning the vision of our Founding Fathers, for an independent and strong
United States
, than I would have back then. This is why I admire Lincoln. He understood what was at risk, and sought to put the survival of the nation above all else; a commitment to principle that cost him his own life, and the lives of so many others. Where I'm pretty confident that, being a God fearing man, Lincoln realized that he could never wash all that blood from his hands, or his soul. The ideological rift is as real today (minus the issue of slavery) as it was during the time of the Civil War. Though I choose to fight the good fight on the battlefield of ideas. I believe it prudent to always remember that the greatest weakness of Liberalism is its inherent dependence on government. That Liberal weakness is the heart of Conservative strength. So Lilwonders, while I believe that we can 'agree to disagree' on the issue of the Grey vs. the Blue, I hope that all Americans would agree on protecting the vision of our Founding Fathers, who despite the existence of the same ideological rift in their time, agreed to create 'a more perfect union' for the benefit of all. So, can we agree to disagree?

Should any reader of this thread wish to further research issues like: How did the Confederate/Union aggression begin, and Lincoln's response, here are some additional resources. http://blueandgraytrail.com/features/northerncauses.html http://www.socialstudieshelp.com/USRA_Civil_War.htm

• United States
27 Mar 08
OK, Sorry, just couldn't help putting my two cents worth in after reading Lady Luna's and Lilwonder's posts. A huge resounding Hurrah, Huzza, and Hear, Hear for Lilwonders latest reply. You summed up Mr. Lincoln's crimes quite distinctly, and wonderfully. Couldn't have said it better myself. And that IS the reason that I believe he is the worst president that we've had. Lady Luna, plz don't take offense, I have come to highly respect you as someone that IS intelligent and thinks things out (a rarity in this day and age). But I do notice that you keep harping back to the slavery issue as a reason why you would have supported Mr. Lincoln. You are aware aren't you that Lincoln was a slave owner himself, and only divested himself of his slaves after his proclaimation? Slavery WASN'T the issue, it never was, it was a smokescreen issue brought up to rile up the constituents of the North so that he'd be given the States Militias in order to invade the South. We haven't had our primary yet here in PA, so I haven't voted for anyone yet. But I am registered as a Libertarian. Ron Paul still holds to a lot of his Libertarian values. I may be one of the few, but in the general elections I always vote Libertarian and not for either candidate of the Republicrats or the Demopublicans. The thought just struck me, that since we have gotten onto he topic of the War of Northern Agression, would The_Ruler prefer that we take this to another thread, where we could explore the topic from mulitple angles? Personally, I'd be intrested in hearing how some of the people that live in the rest of the world view this topic.


• India
22 Mar 08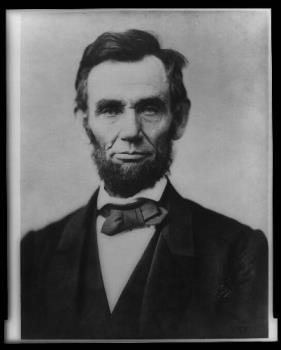 President lincoln was flexible and generous, i would liek to mention one of his sayings... With malice toward none; with charity for all; with firmness in the right, as God gives us to see the right, let us strive on to finish the work we are in; to bind up the nation's wounds.... Lincoln was perceived as a moderate. and more importantly he was a great man.